November 07, 2018
Kidrobot x DCON Mini Series: JPK (JonPaul Kaiser)
It's time for another DCON artist/character reveal. Known for his classic black and white and ability to make any toy look like a historic artifact. Inspired by historical artists and observant of todays toy scene, JPK took the DCON Dunny series by sea and brought us "The Kraken,"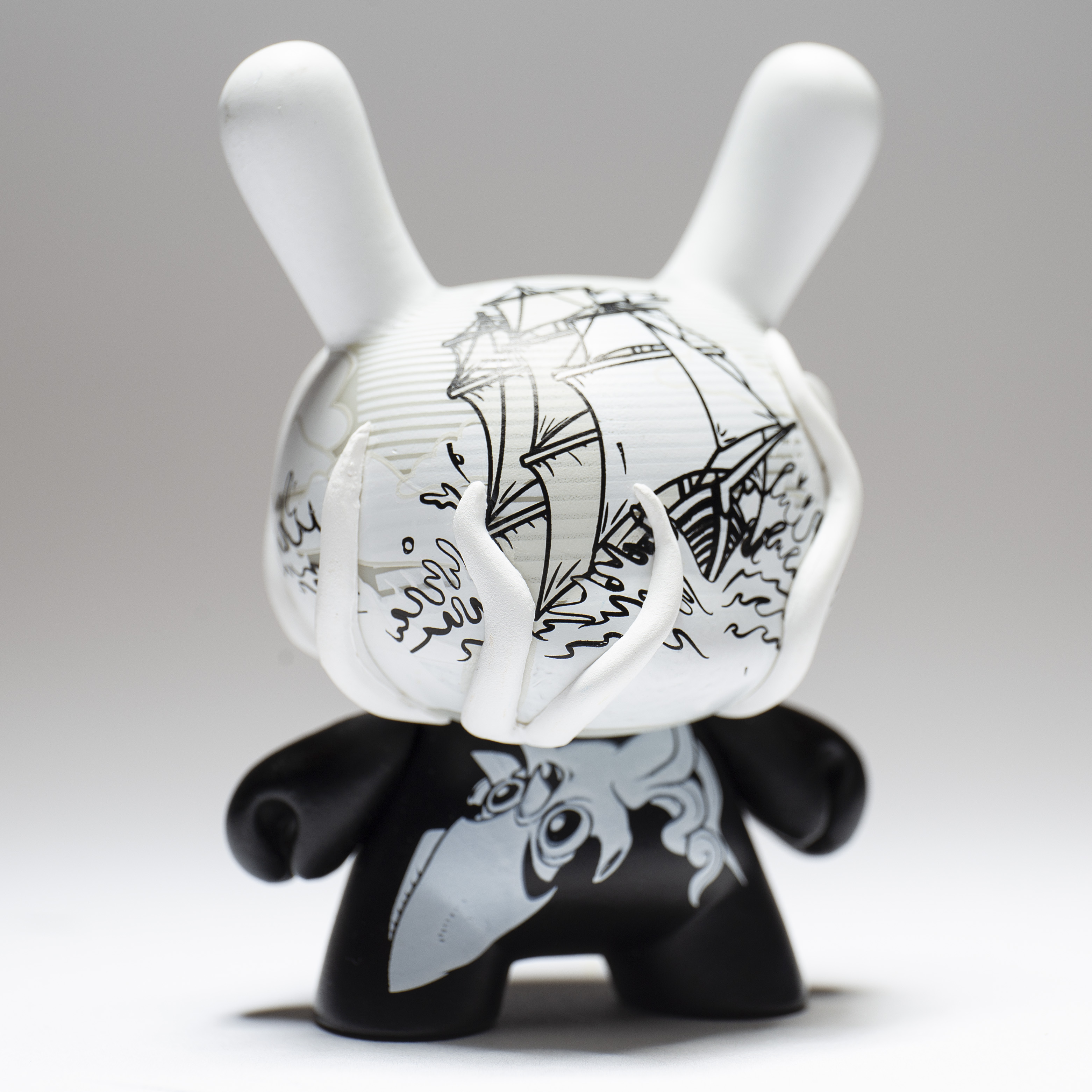 The Dunny is Named The Kraken and is inspired by a long fascination I have with old nautical tales, legends and images, as well as the art of scrimshaw. It links back to some of my character and toy designs that I began a few years ago; featuring pirates islands, mermaids and mysterious islands as the crew of the Whispering Corsair sail into new adventures on the misty high seas. This particular episode sees them attacked my the legendary Kraken; it's giant tentacles towering above the ship, prepared to crash down with all their might. As the tale goes on, I like to dip back into it to develop new additions to the storyline. To check on the crew, and to see where their adventure is taking them next.
What are you currently working on in the art world? Currently I'm preparing for Designer Con in November getting some work together as well as previewing forthcoming artwork that is being produced next year. I'm also currently writing and drawing up some storyline proposals for potential IP development, which is tremendously exciting! 
Have you always wanted to be an artist? How did you get to where you are today as an artist?  I've wanted to be an artist since I was about 4 years old and realised that I couldn't be Indiana Jones.. :\ I was obsessed with drawing and painting constantly through school and college life and onwards throughout my life. It's an old cliché, but it's practice, practice, practice, alongside actually doing the work. Don't plan to do work; just do it. Do it again and then move on to the next project and keep doing it. 
What projects have you worked on with Kidrobot in the past? Well, I've worked with Kidrobot for a few years now; my first releases were in 2012 with the Astronaut/Cosmonaut designs from the Fatcap Series, followed by the four Tanegaru Dunny's in the 2012 Dunny Series and the Angel of End Times Dunny at the end of the year with the Apocalypse series. In 2013 My Locodonta Dunny was released in the Sideshow Dunny series, swiftly followed by my two 8″ Locodonta and Hog Locodonta Dunnys, the latter was a SDCC exclusive release and Kidrobot flew me over for the convention and a signing tour of California, which was incredible! The year after came the Art of War Dunny series, which I had my Sun Tzu Dunny feature as part of. After a couple of years break, I was part of the line-up for the first Arcane Divination series with J*RYU curating, this was a totally different experience, with Jesse discussing every aspect of the project with us and bouncing our ideas around and really pushing the boundaries of what a Dunny could be. This practice really reformed my design approach and has continued with my 5″ Demon Dunny design and release and this latest; the DCon Dunny. 
What are three art pieces you have done that you are most proud of? I really couldn't pick three pieces that I'm most proud of; I've created such a range of different work over the years that it wouldn't feel fair to compare a lot of them. I love the work I produce, exploring and discovering new ideas, new skeins to tap into and learning more about my potential and that is one of the most rewarding things. 
What message/advice do you have for the world? Advice? Build your work slowly, do it for the sheer joy of doing it and the most important part is to just do it, then keep doing it. 
What does DCON mean to you? I think for the next generation of artists who are coming to DCon, the event is a great place for many different aspects; there is seeing the kind of work (and the quality of work) that contemporary artists are producing. To see a truly independent business making art and making a living for themselves must be quite inspiring (I hope…) and shows that if someone like I can create a career from this, why can't they? There's also so much advice that would be available from people. There's such a nice atmosphere and other artists are always keen to help and give advice and feedback.
What does Kidrobot mean to you? Kidrobot links into this; an inspirational brand that started out as a small indie company and grew into a large lifestyle business that is one of the industry leaders, still has a large influence on the art toy and collectibles scene/industry. When I started painting and designing toys, one of my highest ambitions was to have a Kidrobot Dunny made. That to me was legitimisation of my abilities as an artist. It took years, but I kept striving and improving and finally it happened. That ambition has been achieved and it did make a difference to my perception of myself, my skills and my career, but I've never lost that hunger and ambition. 
What are three things that your fans dont know about you or your art? What three things don't my fans know about me or my art…? Umm.. I have no idea! I'm not secretive in any way, however I don't publicise my life very much. I work from home in a little studio at the back of the house, which is in a small village in the English countryside. I'm pretty obsessed with taking long, rambling walks through the fields and forests. Sometimes to clear my mind, other times to dwell on subjects and mull them over. It took me years to get into a design career after leaving university and I worked myriad jobs – call centre work and account management whilst I painted and did bits of freelance work in my spare time until finally finding a design position and starting my true creative career from that point 12 years ago.
The post Kidrobot x DCON Mini Series: JPK (JonPaul Kaiser) appeared first on Kidrobot Blog.