November 06, 2018
Kidrobot x DCON Mini Series: Hyperactive Monkey (Jerome Lu)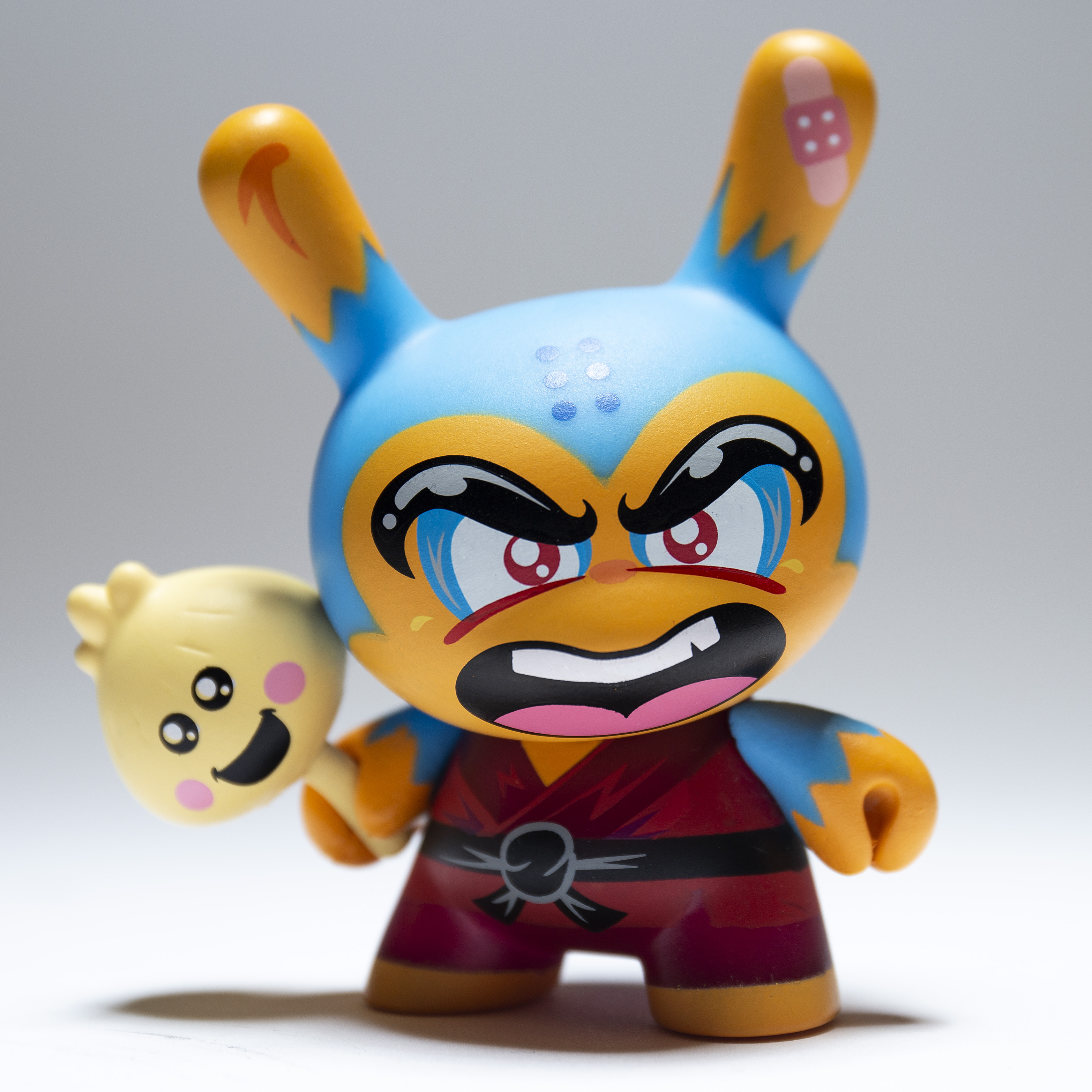 Kidrobot is excited to reveal a character by Jerome Lu aka Hyperactive Monkey. Illustrator and designer Jerome Lu was born in Mountain View and raised in the Bay Area. He founded Hyperactive Monkey, a collectible toy, apparel and entertainment company, where he serves as lead creative artist. His creations are inspired by his love of cartoons, comics, toys, video games, and movies of the 80's celebrating the youth in all of us. Pleased to have him in our newest Dunny Mini Series, and proud to reveal Shao Ru Dunny.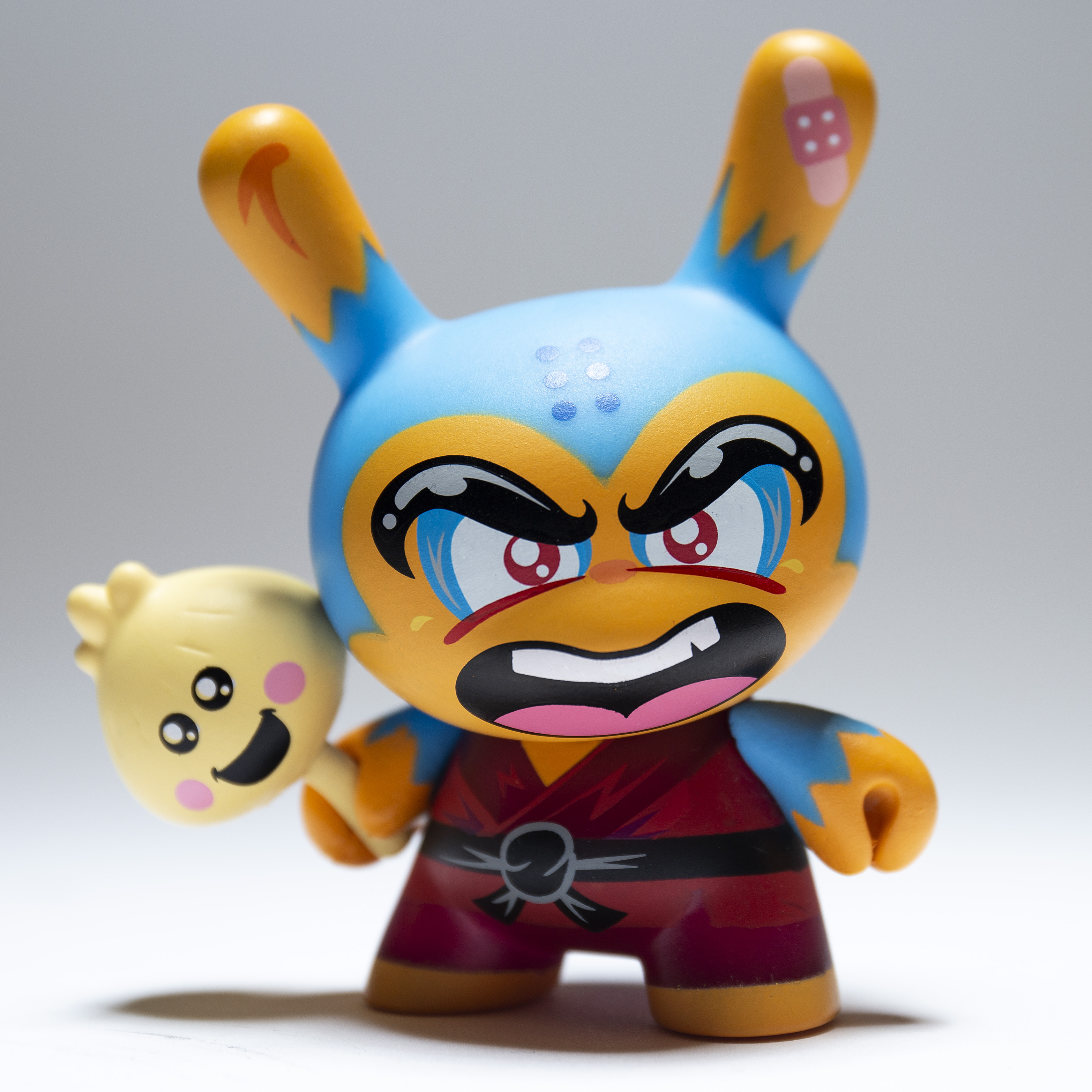 My Dunny's name is Shao Ru.  Shao Ru lives in the land of Hypertopia, home to all of the Hyperactive Monkey characters. Each color way of Shao Ru embodies all the things I loved the most during my childhood; Kung-fu, zombies, and cyborgs. Although Shao Ru is a master of martial arts, he spends most of his time eating that's why he comes with his favorite veggie dumpling. He also has bandaids on his head from all the times he rolls off his bed while he is sleeping (not from fighting). I've attached a photo of from 2013 of some handpainted 3" dunnys that were like the prototype versions to the DCon versions.
Artist Background and Info: 
What are you currently doing in the art world?
I am currently freelancing with various toy companies doing toy and graphic design all the while making my own original Hyperactive Monkey toys.
Did you always want to be an artist? How did you get to where you are today as an artist?
Ever since I was a kid I loved to draw and was constantly doing something artistic. When I wasn't doing arts and crafts I was always playing with my toys especially action figures. I never really thought about it as a profession until I went to college at UCLA and majored in Design/Media Arts. After I graduated, I worked at a branding and advertising design agency and then eventually at several toy companies do packaging designs/illustrations and eventually I made the leap into product toy design. While I was working during the day at big toy companies, I would go home and work on my own original t-shirt designs, books, and toys. I called myself, "Hyperactive Monkey." After 10 years of working full time,  I decided to go freelance and focus on Hyperactive Monkey. I wouldn't be where am I today without the loving and constant support of my family and friends.
What are three art pieces you have done that you are most proud of and can you provide a photo to share?The three art pieces that I'm most proud of are "Be You Be Different" (2011), BAIT X Capcom Street Fighter Collab (2013), and Shop Nice Kicks Hasbro Vinyl Transformer Figure (2016).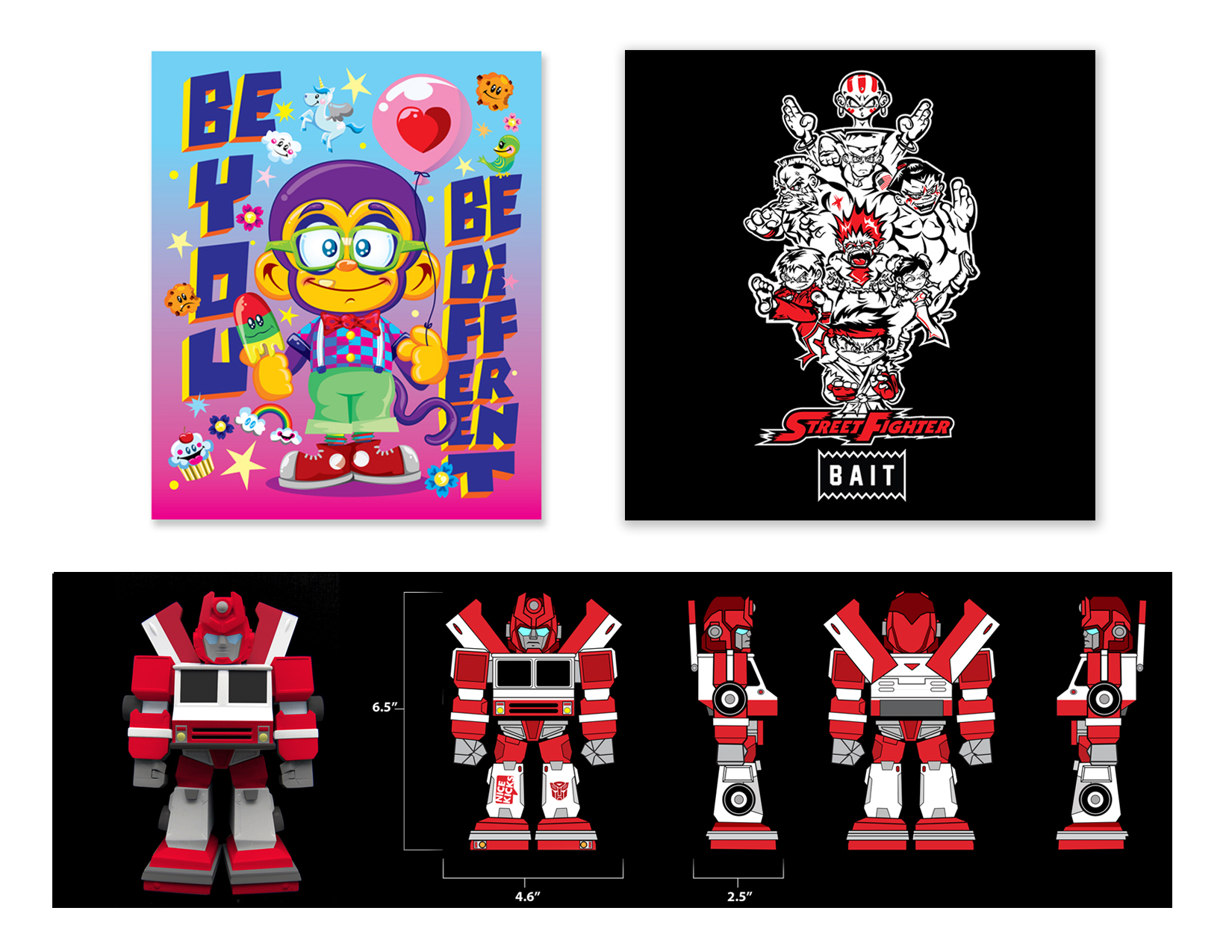 What message/advice do you have for the world? Try to do something creative everyday. Don't put bad mojo out into the world. Eat your cereal and be HYPERACTIVE!
What message do they have for the new generation of artists?I think it's awesome that today's artists have so many resources available. You can literally make a toy completely on your own either in your garage, one bedroom apartment, or find a factory yourself and do small runs. Brick walls don't really exist. You just need the passion and creativity to drive you.
What does Designer Con represent to them? Designer Con to me is like a holiday dinner. Your friends and family all come together to one place and bring their best creations so that everyone can "savor it". I love that everyone there whether it's the vendors or guests create a positive family vibe! It'll be my 9th year vending there!!!
What does Kidrobot represent to them? Kidrobot is the Don Vito Corleone of vinyl/art toys. They are one of the most well known toy companies not just in the "designer toy scene" but in the art world. I remember in 2006 ditching work for the day (pretended to call in sick) and drove down to Kidrobot LA on 3rd Street in Santa Monica to wait 4 hours in line to buy my Tim Biskup Acid Head dunny. It's still one of my favorites in my collection. I was just in awe of how talented the roster of artists they had, and I'm truly honored to be a part of this Dcon Dunny series.
What has art done for you as a person?Art has given me an outlet to express myself often when I can't articulate it through speech or even written words. It's my therapy, lover, children, joy, and angst all rolled into one. 
What are three things that fans don't know about you or your art?1. I really like to eat stinky tofu.2. My favorite toy line of all time is the Jem and The Holograms dolls3. I did graphic designs for a Tom Cruise endorsed energy drink (it never made it to market). 
Please join DCON and Kidrobot in celebrating years and years of kick ass artists busting down walls and bringing fresh ideas to the table every year to make people smile. Grab the Hyperactive Monkey Dunny and the rest at the KIDROBOT booth #1020 at Designer Con in November! 
The post Kidrobot x DCON Mini Series: Hyperactive Monkey (Jerome Lu) appeared first on Kidrobot Blog.