The Kidrobot x Adventure Time Pins Available Now!
For a lot of preteens and teenagers, today was the first day of school. Lucy for us, our customer demographic is nooooot usually in that age range. For those who are a bit older and wiser, we come to you again with the chance to wear your favorite characters and friends right on your jacket, purse, man purse, whatever as we release the new Adventure Time Enamel Pins. Here to say a little more on the release of these awesome collectibles is our favorite, Chris Holt aka The Toy Viking.
What time is it?  If you said anything other than Adventure Time you completely dropped the ball.  Unless you said time for dinner, then you and I are best friends.  Kidrobot is making your jean jacket three times as heavy with pins from Adventure Time!!  Has anyone tried to go through one of those airport scanners with a shirt full of pins yet?  It has to be a shirt because you could easily toss your coat on the conveyor x-ray.  Would they make you go in that little mystery room and do a full on search because of your brazenness?  Or would they accept the fact that your pins are indicative of your status and let you pass like the royalty you are?  There's only way to find out, so load up on this blind boxed series today, and the next time you go on a plane walk through security like the baller you are.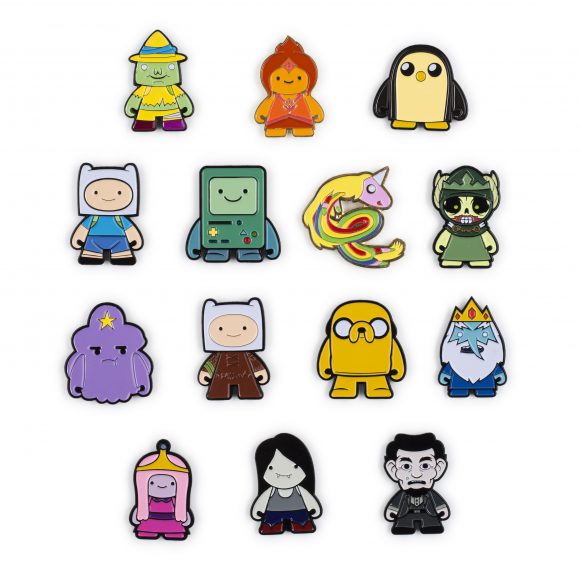 Available now at at your favorite place, www.kidrobot.com where you will find these and all other Adventure Time Fun! 
The post The Kidrobot x Adventure Time Pins Available Now! appeared first on Kidrobot Blog.
---
Also in Kidrobot Blog
We often forget how far and wide the vinyl collectible and art toy world spreads. We are so pleased that the appreciation for art in a different form than canvas has become a collection, a job, a passion and now … Continued The post UK Toy Art Event August 25th 2018 appeared first on Kidrobot Blog.
We like to keep our eyes on what's going on in the Art Vinyl Toy World whenever we can. This month, artist César Zanardi (who we had the pleasure of meeting through mutual friend, Nathan Jurevicius) has partnered with Art … Continued The post Art Across The World: Latin Psychedelia In Tokyo appeared first on Kidrobot Blog.
GOT ANY SPARE BRAINS??? The lastest thing in Mechtorian technology is the 8″ Cognition Enhancer Dunny and it's available online now at www.kidrobot.com. On the mic (or really, written in words) is our fancy friend Chris Holt aka The Toy … Continued The post Kidrobot x Dok A Cognition Enhancer 8″ Dunny Available Now! appeared first on Kidrobot Blog.