First Look Friday! Labbit Band Camp
We love you all so much, we wanna give you the inside scoop to all your Kidrobot needs. We wanna be your first, your last, your everything so we are kicking up "First Look Fridays" where we give you a tiny glimpse into the future of KR and our upcoming releases. That's right, straight from the horses mouth… be sure to add comments, questions, concerns, clarifications to our posts. Let us know what you want to know! This week, we are giving an inside look to Labbit Band Camp!
It's music to your ears! Labbits are headed to band camp in this all-new 2.5" Blind Box. From Jazz to metal, this series has something for every music lover. Collect them all to add a touch of music to any collection! Making their musical debut later this month!
Keep an eye on the Kidrobot blog for more first looks and exciting news to come!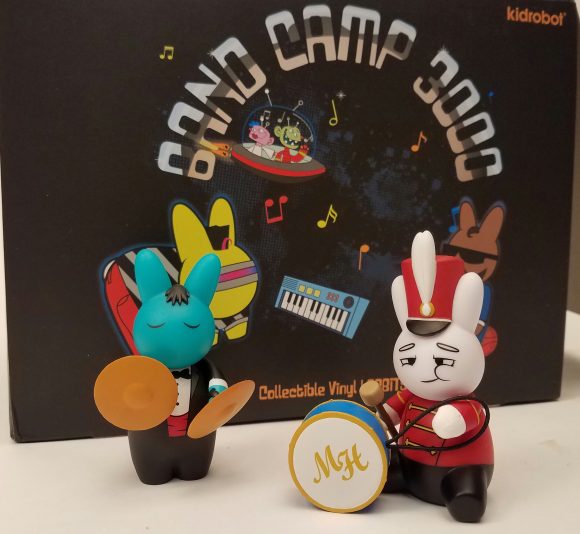 The post First Look Friday! Labbit Band Camp appeared first on Kidrobot Blog.
---
Also in Kidrobot Blog
Here is another Kidrobot x Throwback Thursday post by our good friend Chris Holt aka The Toy Viking! The best thing about Kidrobot's Adult Swim blind box mini series is not just the fact that you can get vinyl toys … Continued The post Kidrobot's Throwback Thursday: Adult Swim Mini Series appeared first on Kidrobot Blog.
We often forget how far and wide the vinyl collectible and art toy world spreads. We are so pleased that the appreciation for art in a different form than canvas has become a collection, a job, a passion and now … Continued The post UK Toy Art Event August 25th 2018 appeared first on Kidrobot Blog.
We like to keep our eyes on what's going on in the Art Vinyl Toy World whenever we can. This month, artist César Zanardi (who we had the pleasure of meeting through mutual friend, Nathan Jurevicius) has partnered with Art … Continued The post Art Across The World: Latin Psychedelia In Tokyo appeared first on Kidrobot Blog.