Custom Spotlight: Dan Tanenbaum and the Watch Part Series
Kidrobot Custom Spotlight..
Introducing the exquisite Watch Part Series by Dan Tanenbaum!
1) What is this series? Please tell us a few sentences about it.
This is the Steampunk Series. By encrusting vintage watch parts onto the Dunnys they take on a unique steampunk character. Each Dunny is a one-of-a-kind hand crated creation taking up to 50 hours to create.
2) What was your inspiration for these pieces?
As a true steampunk artist I loved the challenge to transform an otherwise soft and light character into something heavy metal and futuristic looking
3) What is your favorite design element of this piece or pieces?
Some of the watch parts come from antique pocket watches dating back to the late 1800s and early 1900s. These parts have such unique characteristics that it brings a true antique element to the creations.
4) What was the most difficult aspect of creating this series?
These builds are liking putting together a puzzle with no matching pieces and no map to get to the final product. Making sure all the pieces flow into each other making a cohesive creation takes a lot of time and patience.
5) Please tell us a few sentences about yourself.
I'm a technology geek who spends his days operating internet companies with a side obsession for collecting vintage timepieces. I have always been fascinated with the inner workings of watches and used that obsession to fuel my creativity.
6) What is a fun fact about yourself?
I am the "old dude" at the skateboard parks as I tend to enjoy riding the ramps at the ripe age of 45.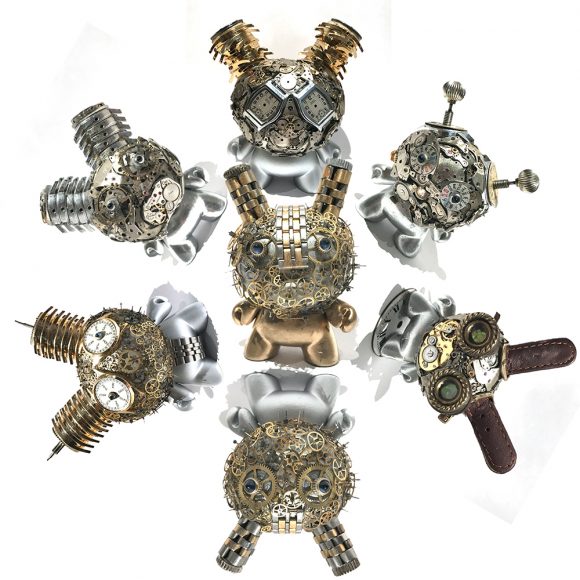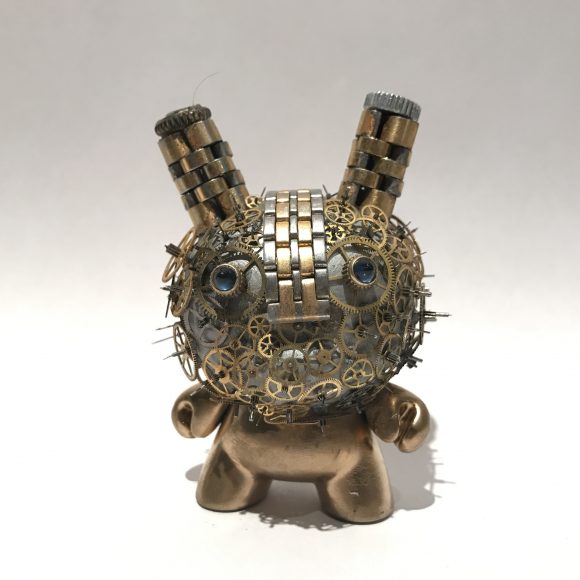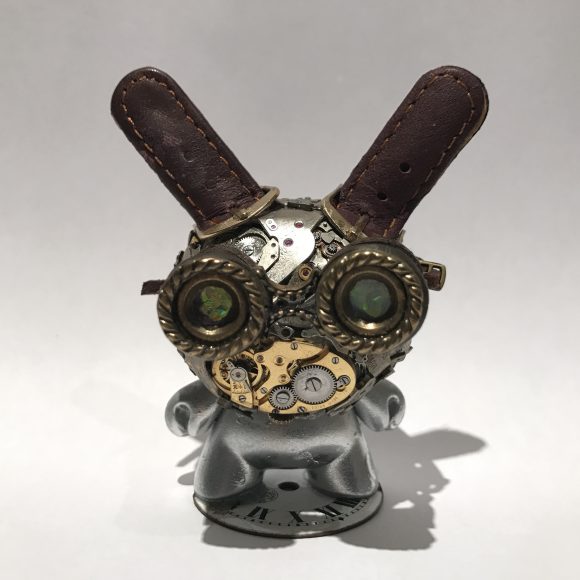 About the series:
Watch collector turned artist Dan Tanenbaum has used his obsession for vintage timepieces into an art form.  Tanenbaum creates unique one-of-a-kind Dunnys by strategically affixing vintage watch parts to the vinyl figures transforming them into steampunk characters.  Each piece has a different personality and takes 20-30 hours to complete.  Tanenbaum puts a different spin on the vinyl figure phenomenon but transforming the soft light creations into heavy steel characters.
Bio: 45 year old Dan Tanenbaum is a technology entrepreneur with a creative edge. When he isn't working on his internet companies during the day he is in his workshop creating artwork with vintage watch parts. With a focus on creating miniature motorcycles out of watch parts he recently turned
his attention to encrusting vinyl toys via inspiration from a 25+ year relationship with David Schlesinger, the principal behind Corner 12. Spending over 30 hours creating each of his one-of-a-kind pieces, he has created a niche following for his steampunk
characters. Tanenbaum's custom creations have appeared in private collections around the globe and as a part of the Corner 12 collective he is focusing on producing more intricate work as his art continues to evolve.
The post Custom Spotlight: Dan Tanenbaum and the Watch Part Series appeared first on Kidrobot Blog.
---
Also in Kidrobot Blog: Art, Design & Pop Culture | Kidrobot.com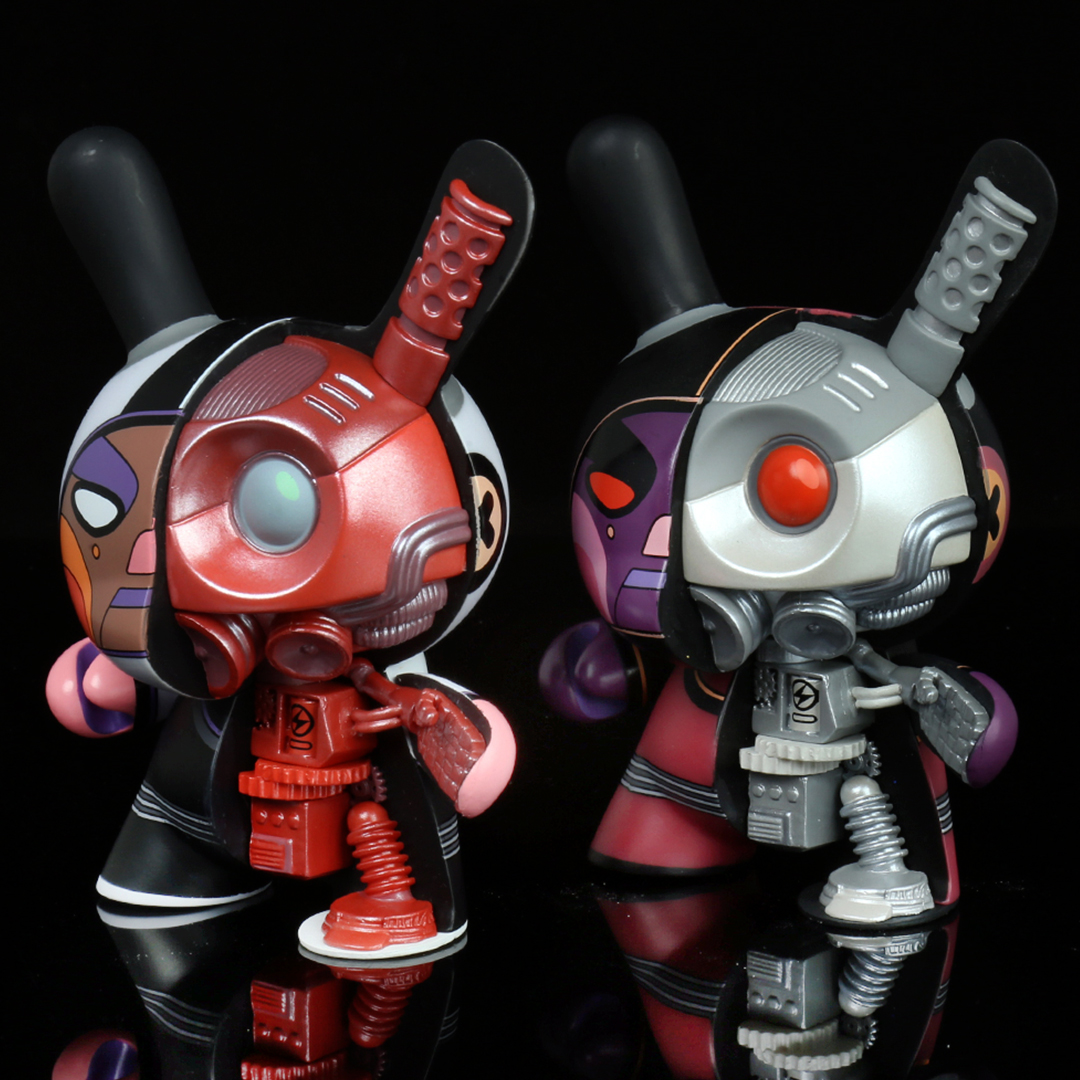 If you aren't familiar with artist Daniel Isles aka DirtyRobot's illustrations, you need to be. With the release of the new Kidrobot VOID 5" Mecha Half-Ray Android Dunny's, we got together with the artist behind the designs for a Q&A interview with Daniel Isles. Are you ready to get down and dirty with DirtyRobot?
The post The Robots Unite: Q & A with Artist Daniel Isles AKA DirtyRobot appeared first on Kidrobot Blog.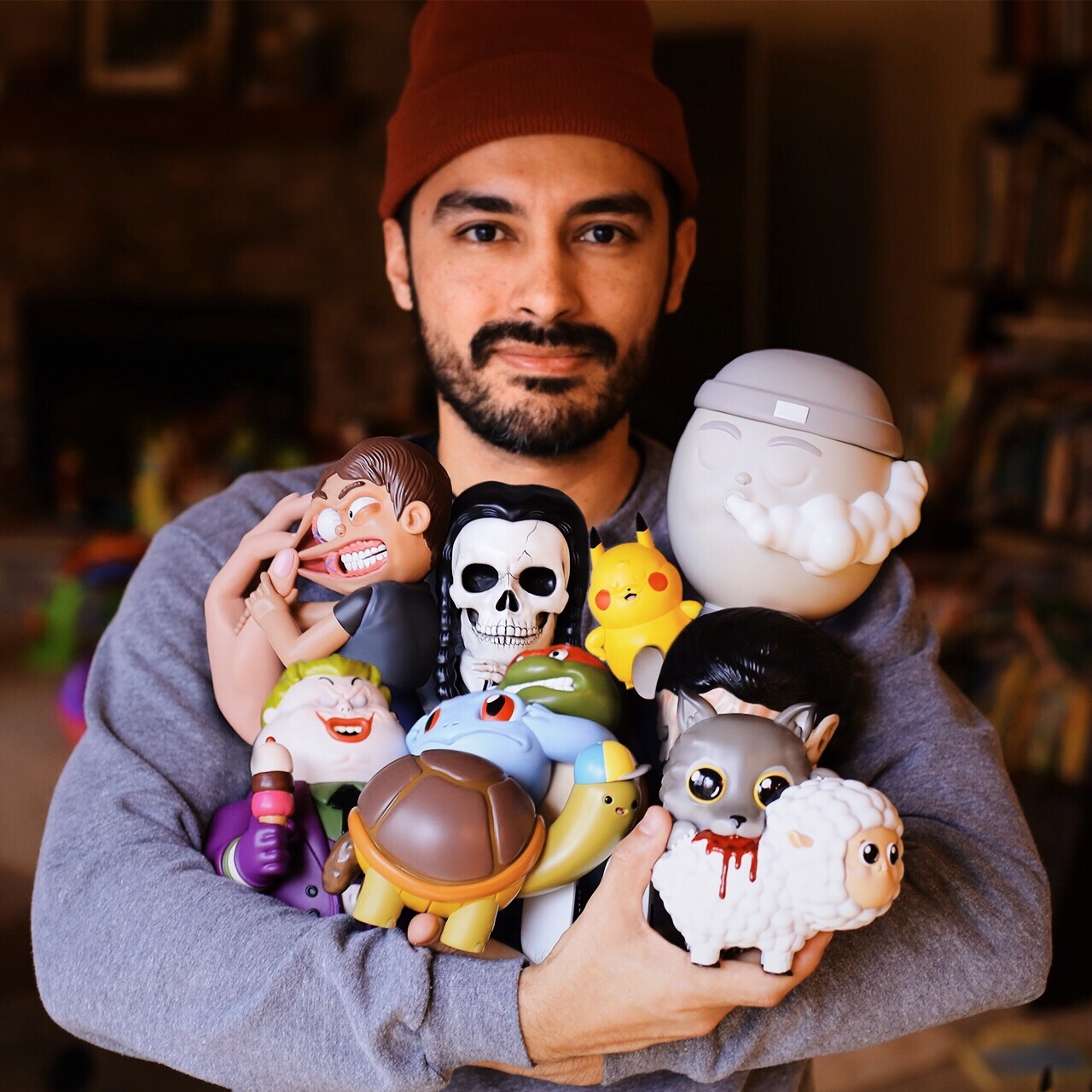 It's a Kidrobot Christmas holiday tradition to release special 3-inch Holiday Dunnys by artists that we love and adore. And this year, we're releasing two holiday Dunnys by the prolific Alex Solis. Before they drop tomorrow (November 15th), we had … Continued
The post Alex Solis – A Multi-Talented Toy Designer appeared first on Kidrobot Blog.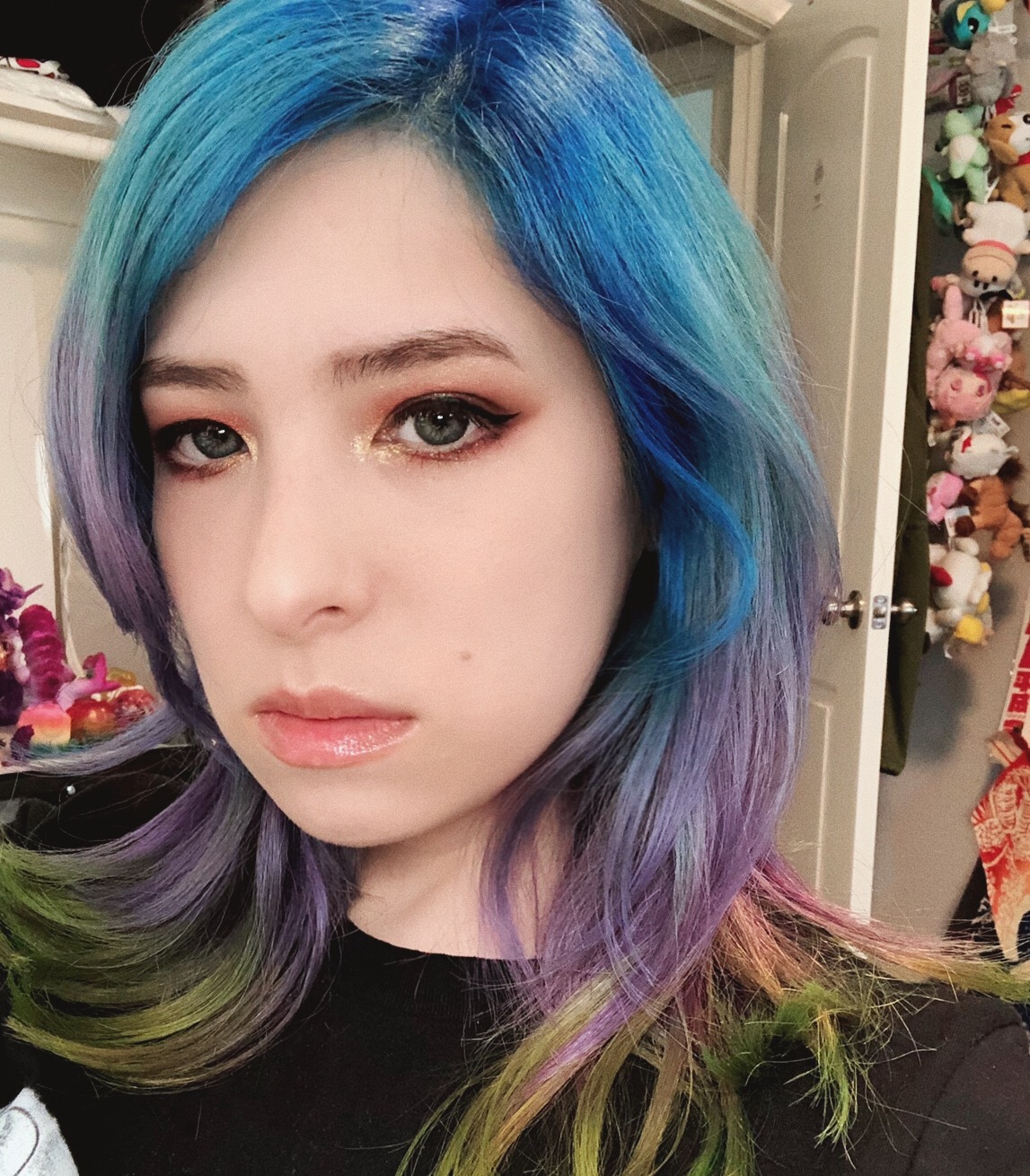 If you've been hanging around the Kidrobot website lately, you've definitely seen the name Candie Bolton. Having recently designed a 3″ Bastet Dunny for our Spiritus Dea goddess series, and most recently a collection of Hello Kitty art toy designs … Continued
The post Q & A with Toy Designer Candie Bolton appeared first on Kidrobot Blog.