August 01, 2013
Product Preview. Pyramid Dunny, 3inch by Andrew Bell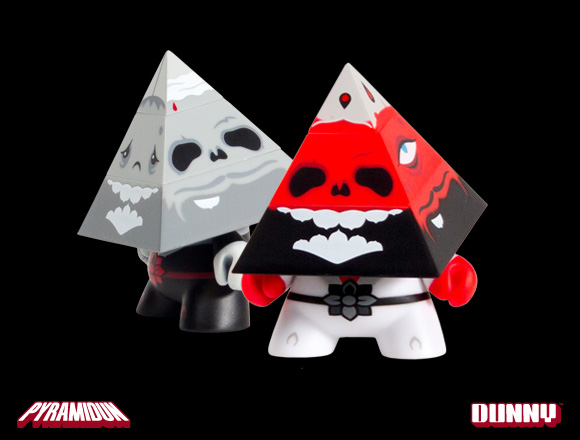 "Here's some pretentious art-speak about the concept:
In the hands of hundreds of artists and customizers, the Dunny has constantly and repeatedly evolved into a new and exciting, yet familiar object. The Pyramidun pays tribute to the versatility of the design, while simultaneously removing itself from the base form that has defined it. It's multi-faceted form invites the collector to create their own combination reflective of their style, mood or environment." -Andrew Bell
Ever evolving, Pyramidun Dunny is 16 Dunnys in one. A three-part pyramid replaces the iconic two-eared head, creating a figure of a different form. Each "face" of the pyramid has a different graphic – by turning each level of the pyramid, a new image appears. A tribute to the versatility of design, this 3-inch figure brings Dunny to a new dimension. Customization is truly at your fingertips.
Dunny transforms August 15 at Kidrobot stores, kidrobot.com, and select retailers. Pyramidun Dunny retails for $14.99 US
The post Product Preview. Pyramid Dunny, 3inch by Andrew Bell appeared first on Kidrobot Blog.