November 14, 2013
Product Preview. Kidrobot X Keith Haring X (RED) Collection.

Kidrobot is joining Keith Haring and (RED) in the fight against AIDS with the launch of a Special Edition Kidrobot (PRODUCT)RED Collection.
The new (KIDROBOT)RED collection is the latest addition to the range of powerful (RED) products. The collection includes three sizes of the Kidrobot Mascot Bot (1.5" keychain, 3" vinyl figure, 7" vinyl figure), as well as a specially designed adjustable snap-back cap and a knit beanie. These newest staple items will be available at Kidrobot.com, Kidrobot stores and selected specialty retail stores around the world on November 30, 2013.
To celebrate this anticipated release, Kidrobot invites you to the official product launch and DANCE (RED) SAVES LIVES Party taking place on the Eve of World AIDS Day, November 30th from 7-9pm at their SoHo, New York Store.
RSVP to events@kidrobot.com. Guest list highly recommended.
If you are in the San Fran, LA, or Boulder area, these Kidrobot store locations will be having (KIDROBOT) RED Product launch parties as well! November 30th from 6-8pm!

A rare video of Haring at work shows his energetic style. Mr. Haring wrote:
"I am becoming much more aware of movement. The importance of movement is intensified when a painting becomes a performance. The performance (the act of painting) becomes as important as the resulting painting."
Kidrobot personally invites you to roll up your sleeves, take part in this exciting time, and fight the good fight. Join the movement and proudly display your (KIDROBOT X KEITH HARING) RED bots, beanies and snap-backs.
About (RED)
(RED) was founded in 2006 by Bono and Bobby Shriver to engage businesses and people in the fight against AIDS.
(RED) partners with the world's most iconic brands who contribute up to 50% of profits from (RED) branded goods and services to the Global Fund. (RED) Proud Partners include: Apple, Starbucks, Converse, The Coca-Cola Company, Beats by Dr. Dre, Belvedere, Bugaboo, Claro, SAP, Telcel and American Express (UK only). (RED) Special Edition partners include: Shazam, Girl Skateboards, Mophie, FEED, Nanda Home, Bottletop, Tourneau, Fatboy USA, HEAD and TOUS.
To date, (RED) has generated over $200 million for the Global Fund to fight AIDS, Tuberculosis and Malaria, to support HIV/AIDS grants in Ghana, Lesotho, Rwanda, South Africa, Swaziland and Zambia. 100 percent of that money goes to work on the ground – no overhead is taken. Global Fund grants that (RED) supports have impacted more than 14 million people with prevention, treatment, counseling, HIV testing and care services.
(RED) is a division of The ONE Campaign. Learn more at www.RED.org
About Keith Haring
Throughout his career, Haring devoted much of his time to public works, which often carried social messages. He produced more than 50 public artworks between 1982 and 1989, in dozens of cities around the world, many of which were created for charities, hospitals, children's day care centers and orphanages. Haring was diagnosed with AIDS in 1988. In 1989, he established the Keith Haring Foundation, its mandate being to provide funding and imagery to AIDS organizations and children's programs, and to expand the audience for Haring's work through exhibitions, publications and the licensing of his images. During a brief but intense career that spanned the 1980s, Haring's work was featured in over 100 solo and group exhibitions. Since his death, Haring has been the subject of several international retrospectives. The work of Keith Haring can be seen today in the exhibitions and collections of major museums around the world.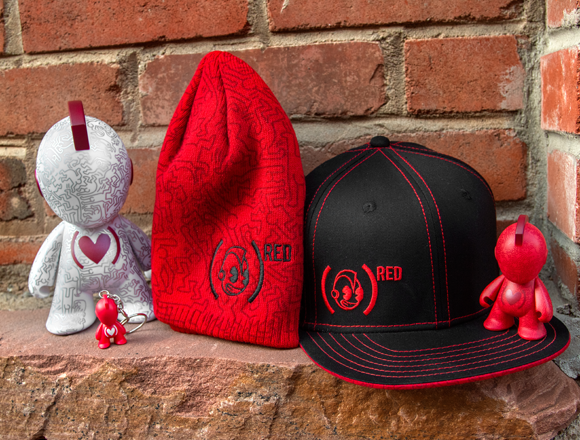 The post Product Preview. Kidrobot X Keith Haring X (RED) Collection. appeared first on Kidrobot Blog.