July 24, 2011
OPERATION: BLINDBOX – Kidrobot's SDCC Scavenger Hunt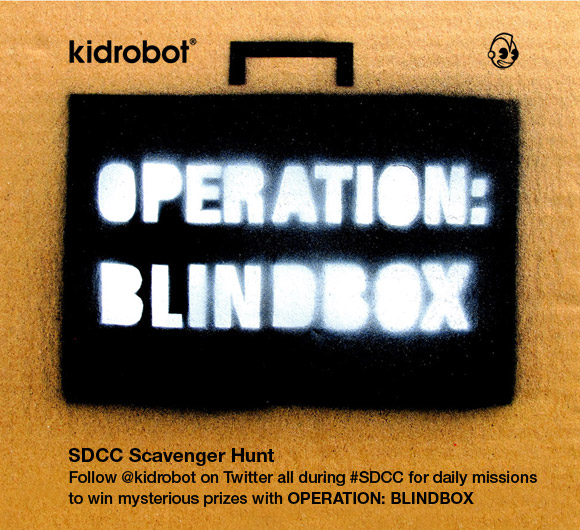 UPDATED: 7/24/11
Get ready to get ready for Kidrobot's wild and random SDCC Scavenger Hunt, OPERATION: BLINDBOX. Stay tuned all week to @kidrobot on Twitter for the de-classified daily missions tweeted every morning before the Con. On Days 1-4, you and your friends can hustle in pursuit of winning one of the 4 mega-blindboxes awarded daily. The first person to complete all the various tasks and takes the items to KR's Booth 4529 wins that day's prize. Each mystery pack is hand-stenciled and cramped packed with paint samples, factory test pulls, too many accessories, mini figures, exclusive wristbands and vinyl bits of randomness. That is all… for now.
The time has come for OPERATION: BLINDBOX to commence. The first person to bring all the items in each of the lists below to Kidrobot Booth 4529 will win that day's wild and random mega blindbox.
DAY 1:
> One Mini MUNNYWORLD figure signed by 3 Kidrobot artists (any artist that has ever produced a toy design with KR)
> 3 different tote bags
> a photo of youself with a LEGO sculpture
> a to-go menu from a Mexican food restaurant
> get your forehead signed with a "K" by Frank Kozik (don't worry ,we're using washable markers)
DAY 2:
> a blinking light
> a photo of yourself with someone dressed up as a South Park character
> an article of Kidrobot apparel (SDCC t-shirts are acceptable)
> a  non-smorkin' Labbit of any size (broken off smorks don't count)
> a book of matches from a hotel
DAY 3:
> a photo of yourself planking with a Storm Trooper in the background
> 3 lanyards of different colors
> a fake mustache
> a plastic mask
> find the man holding the Kidrobot Line Starts Here sign and ask him for the magic word (trust me he's out there somewhere)
DAY 4:
> an inflatable weapon
> a picture of yourself with a life sized Transformer
> a picture of a man in a women's costume
> a set of fangs
> the paper mask of Zombie Homer Simpson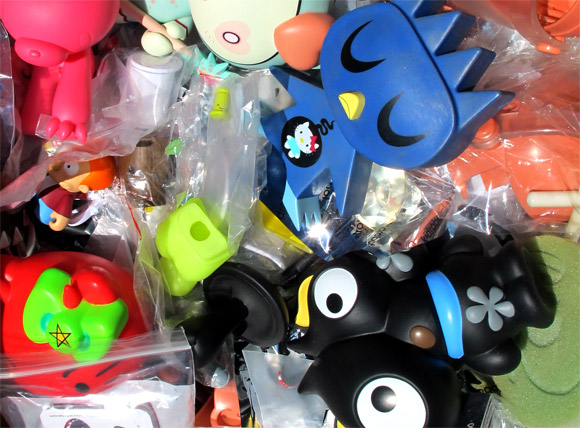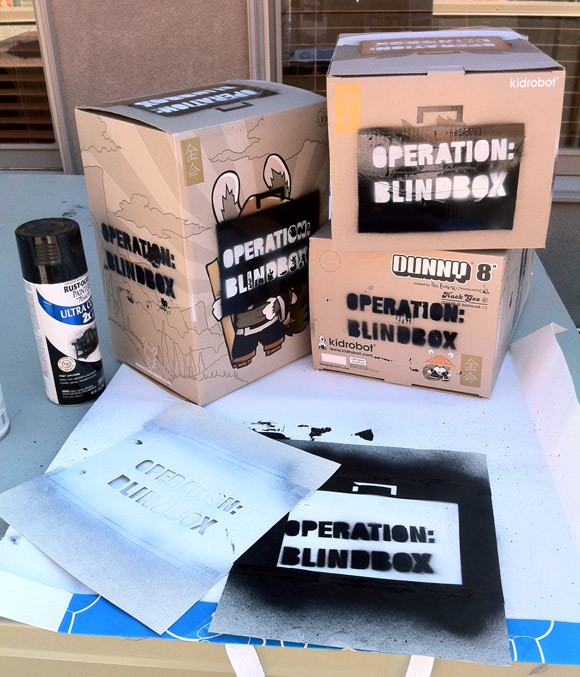 The post OPERATION: BLINDBOX – Kidrobot's SDCC Scavenger Hunt appeared first on Kidrobot Blog.