October 17, 2014
Monster Show 8 at Insomnia!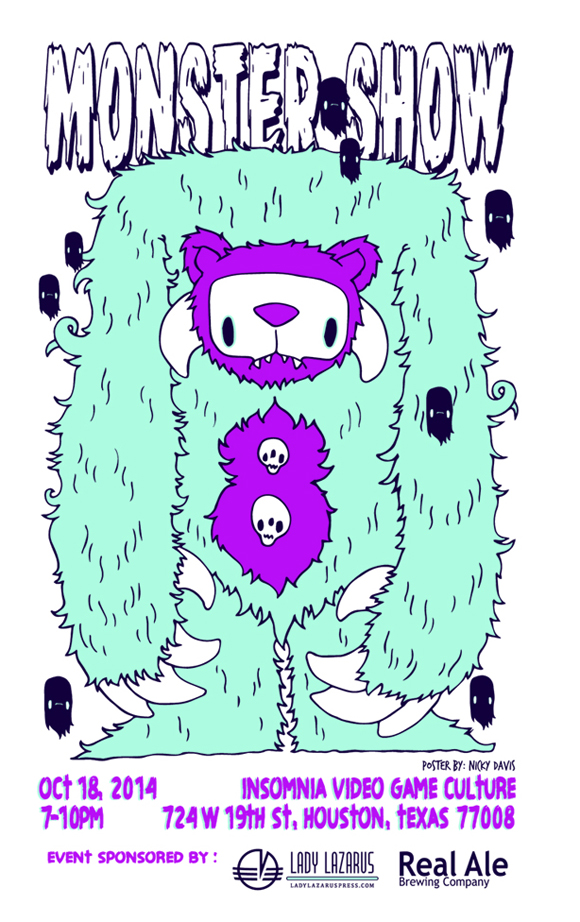 IT LIVES!
Get ready for the eigth installment of  the Monster Show– created by Russell Etchen and put on at Domy Books (in Austin and Houston) opening this Saturday, October 18! Insomnia is excited to make this their first gallery presentation and they hope you will join them for this opening reception.
The show is simple and season appropriate- monsters on paper!
Saturday, October 18, 2014
Insomnia
724 W 19th St. Houston, TX 77008
7-10pm, FREE
Exhibition runs for one week only, through October 25th
Featuring artwork by
ACK!
Aleisha Bayron
Angel Garza
Angela Zavala
Beau Pope
Blake Jones
BRIKS
Chris Heard
Crux Delgado
Darcy Rosenberger
Eric Castorena
ESY
EYESORE
Gabriel Dieter
izz1e
Jenn Fox
Jessica Lam
Jessica Ninci
JESTER
Johnny Jackson
Josiah A.W.
Josie Devora
Justin Dunford
Katie Mulholland
Katsola
Kmiko
Letty Perez
Lisa Marie Hunter
Matt Manalo
Matt Messinger
Michael C. Rodriguez
Molly Rodriguez
Nathan Dosher
Nathan Williams
Nicky Davis
Rene Cruz
Roland Garza
Sarada
Sarah Welch
The Olive Knight
Valerie G.
WALDO
WILEY
Wizard of Barge
YAHU
+ more!!
Did we mention free drinks and a food truck on site?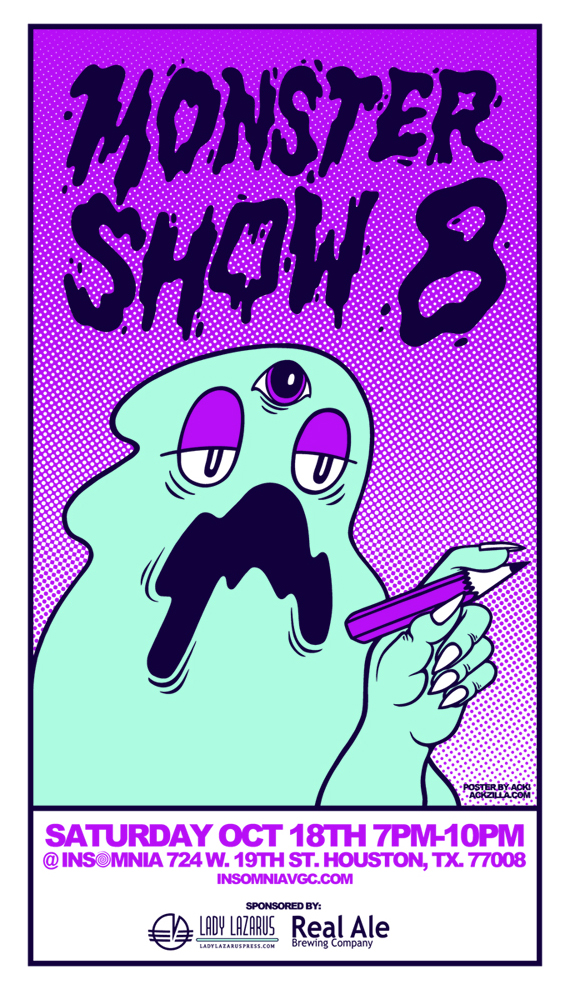 The post Monster Show 8 at Insomnia! appeared first on Kidrobot Blog.