August 11, 2011
Kidrobot For Swatch – Worldwide Schedule of Events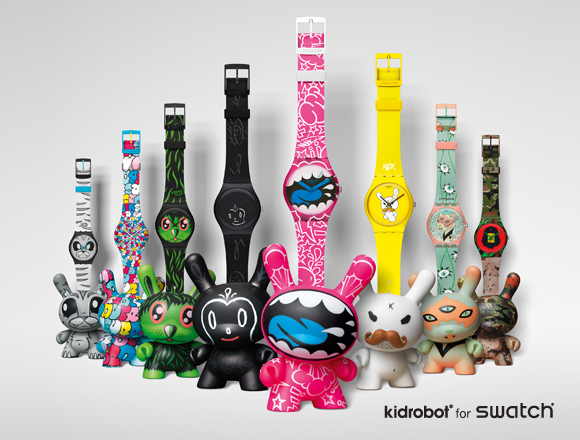 The worldwide launch of the highly anticipated Kidrobot for Swatch collaboration is rapidly approaching! To celebrate this innovative pairing of artist watches and matching Dunnys, Swatch is hosting events in 11 countries around the globe, featuring Kidrobot artists: Frank Kozik, MAD, Tara McPherson, Jeremyville and Joe Ledbetter.  The festivities kick off in Shanghai August 18, and dot the planet through September 20. Spread the word around the world and prepare yourself… This is going to be HUGE!
Shanghai, China
August 18
Swatch Art Peace Hotel
Featuring Frank Kozik,  MAD and Tara McPherson

Tokyo, Japan
August 20
Shinjuku Beams Japan
Featuring MAD & Frank Kozik

Hong Kong, China
August 22
Swatch Lee Garden Road Shop
Featuring MAD
London, England
August 24
London Swatch Store
Featuring MAD
Liverpool, England
August 25
Liverpool Swatch Store
Featuring MAD
Amsterdam, Netherlands
September 5
Concrete Store
Featuring TILT
Milan, Italy
September 8
Store Via Montenapoleone
Featuring Jeremyville
Basel, Switzerland
September 8
Artyou
Featuring TILT
Paris, France
September 13
Espace Feaubourg
Featuring TILT
Madrid, Spain
September 13
Edifico Hermanos Lamarca
Featuring Tara McPherson
New York, USA
September 16
5 Avenue Swatch Store
Featuring Frank Kozik and Jeremyville
Lisbon, Portugal
September 20
Swatch Store Gaia
Featuring TILT
Singapore
October 1
Swatch Lee Garden Road Shop
Featuring Joe Ledbetter
The post Kidrobot For Swatch – Worldwide Schedule of Events appeared first on Kidrobot Blog.