March 13, 2014
Denver Art Opening: Mark Dean Veca
Opening this Friday, 3.14.2014 at the David B. Smith gallery in Denver is Los Angeles artist Mark Dean Veca.

As Meg Linton describes Mark's work:
Mark Dean Veca is a purveyor of prehistoric magic: creating space on a two-dimensional plane with a few lines of charcoal, ink, or paint. He draws on paper, canvas or walls and uses simple black lines to manifest volume, space, and depth. He shares his illusionary worlds and characters to express the internal and external tension of the human condition as he experiences it. His work is visceral, carnal, with its depictions of organs and orifices and writhing tendons, arteries, and intestines. It is comic and unnerving with strong contrasting palettes and patterns and odd juxtapositions of historical and popular iconography often abbreviated, disfigured, or exposed. Whether large or small the work is intentionally spectacular and the artist wholeheartedly embraces his constructive affliction of horror vacui.
From the catalog essay Phantasmagoria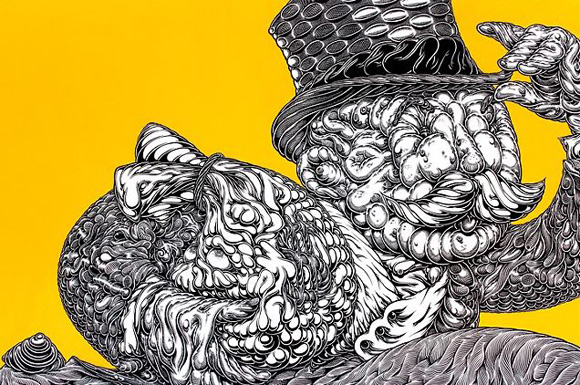 Mark Dean Veca
@ David B. Smith Gallery
03.14.14 through 04.12.14
Opening reception with the artist on Friday, March 14, from 7-9pm
The post Denver Art Opening: Mark Dean Veca appeared first on Kidrobot Blog.