June 24, 2011
Wrap Up – DS2011 Trading Parties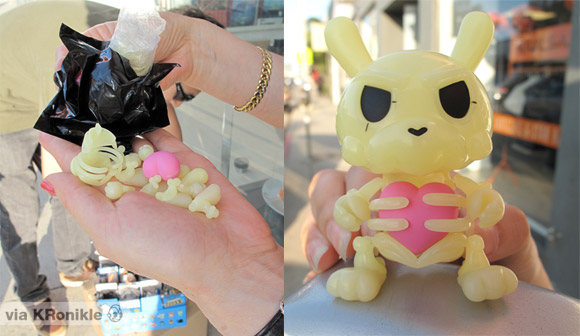 Last night Dunny madness was running rampant at all the Kidrobot Stores with the release of Dunny Series 2011. From coast to coast and beyond, Dunny collectors feverishly opened blind box after blind box looking to complete the new set and piece-by-piece, assemble the awesome Bones Dunny by Kronk. Experienced vinyl hustlers came prepared with an arsenal of older sets of Dunnys adding interest to these amazing community events. Some artists in DS2011 came through their local shops with Huck Gee swinging by KRSF as well as Dril One and Chuckboy joining Paul Budnitz and Aya Kakeda at KRNY. Great times were had by all.
Kidrobot New York
Kidrobot Miami
Kidrobot Los Angeles
Kidrobot San Francisco
Kidrobot London
The post Wrap Up – DS2011 Trading Parties appeared first on Kidrobot Blog.