July 02, 2012
Secrets Of The Toy Makers Revealed At SDCC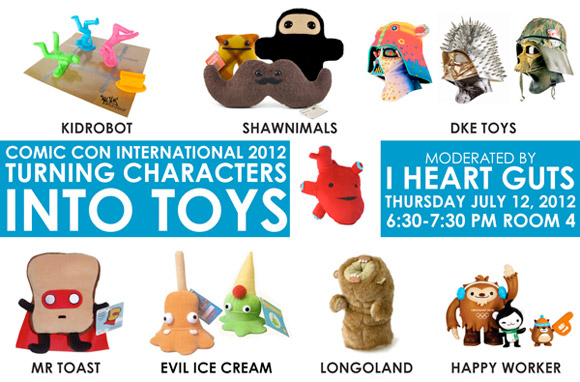 Plush toast, mean ice cream, handmade monsters and furry internal organs — these aren't your baby's stuffed animals. Independent toymakers will once again spill their guts on how to successfully create and market awesome plush and vinyl toys., featuring an awesome array of great minds in the designer toy universe. Learn from toy world luminaries Nitin Bhargava (Kidrobot), Shawn Smith (Shawnimals), Dan Goodsell (Mr. Toast), Kerry Horvath and Darth Rimmer (Evil Ice Cream), Dov Kelemer (DKE Toys), Joshua Ben Longo (Longoland), and Kris Schantz (Happy Worker), moderated by Wendy Bryan (I Heart Guts).
The Independent Toymaker Roundtable: Turning Characters Into Toys will take place Thursday, July 12, 6:30 – 7:30pm Room 4 at SDCC. Learn to turn your sketches into something you can squeeze!
via iheartguts
The post Secrets Of The Toy Makers Revealed At SDCC appeared first on Kidrobot Blog.