October 04, 2013
Secret Walls X Kidrobot X NYCC Live @ The Block!
A Very Special Announcement!
We are very happy to announce the next Secret Walls Event happening live Thursday-Sunday at NYCC!
Secret Walls x Kidrobot x NYCC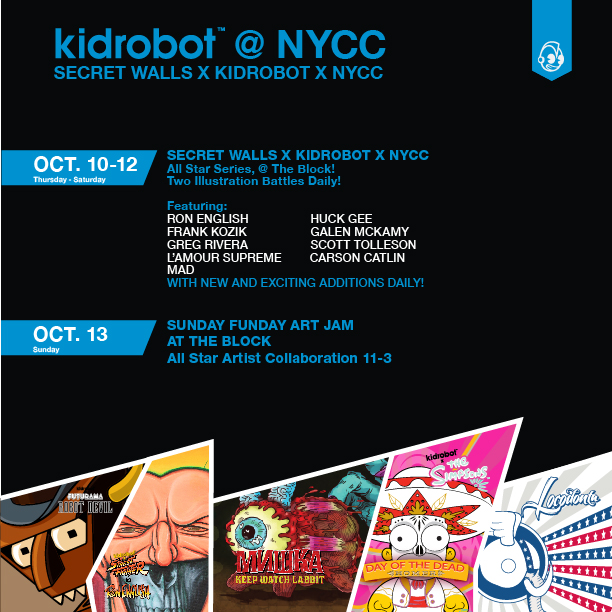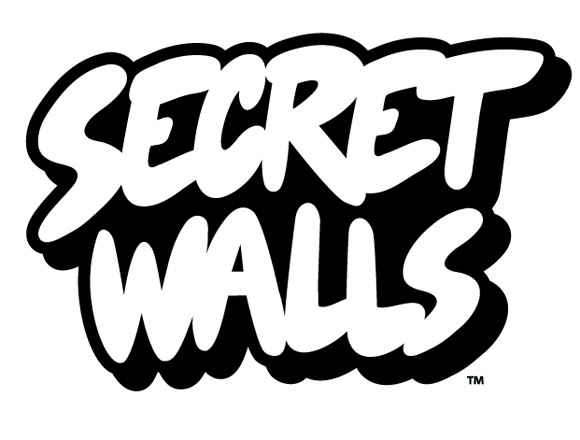 FIRST…What is Secret Walls?

Secret Walls (formerly Secret Wars) is the World's premier live illustration battle. Working in a similar way to Fight Club,

Secret Walls battles are set up and promoted through word of mouth & social media.

Battles take place between 2 individuals, or 2 teams of artists.

Secret Walls began back in 2006 in a small bar in East London, it was small, and intimate yet had the potential to be so much more. Years of hard work, dedication and a strong following has meant Secret Walls has pushed the boundaries and raised the bar for artists and promoters alike on an international stage.

Boasting experience in major cities including NYC, London, Lisbon, Berlin, Tokyo, Copenhagen, Dublin and Amsterdam, proves and many more, proves that there really isn't a stage big enough for the groundbreaking and award-winning event.

Terry Guy, founder of Secret Walls wasn't content with carrying on with the same original one on one concept. Always wanting to push the limits and give the public something bigger and better, he decided to make it his mission to create a global competition that would be recognized as the Super Bowl of live art shows!

Secret Walls offers young and aspiring artists as well as well known professions a creative platform ˆ allowing them a chance to showcase their work on a global scale, gaining the recognition they deserve.

 

They are hosted in secret and unique locations in all major cities from Tokyo to Malmo, New York to London.
Artists involved range from the amateur right up to the professional and famous.
Our global live ilustration battles have been growing organically for over 5 years. The first Secret Walls battle took place in Shoreditch London 2006.
Secret Walls has reached and held events in over 25+countries. (USA, EUROPE, ASIA, MIDDLE EAST, RUSSIA) and we receive new invites all the time.
Our creative network grows everyday, and we add more battle locations as new talented artists enter the frame.
Secret Walls is known as a platform for young aspiring artists, supporting and nurturing new artistic talent.
Our brand identity is built on a colour palette of black and white.

 

RULES AND REGULATIONS FOR THE COMPETITION

90 minutes on the battle clock
Only black SW special markers and black acrylic paint can be used as battle weapons
No pencils / sketches should be on stage or used as reference
Each artist has to stay within the allocated space, if they creep over then there will be a 1 point deduction
Battles are judged by 2 nominated and neutral guest judges + crowd vote (3 point system) (using a decibel reader)
Hosted on giant white walls
The post Secret Walls X Kidrobot X NYCC Live @ The Block! appeared first on Kidrobot Blog.