October 03, 2013
Madelife in Boulder is Hosting DESIGN RELIEF, A SHIRTS ON/DANCE OFF ART PARTY & FUNDRAISER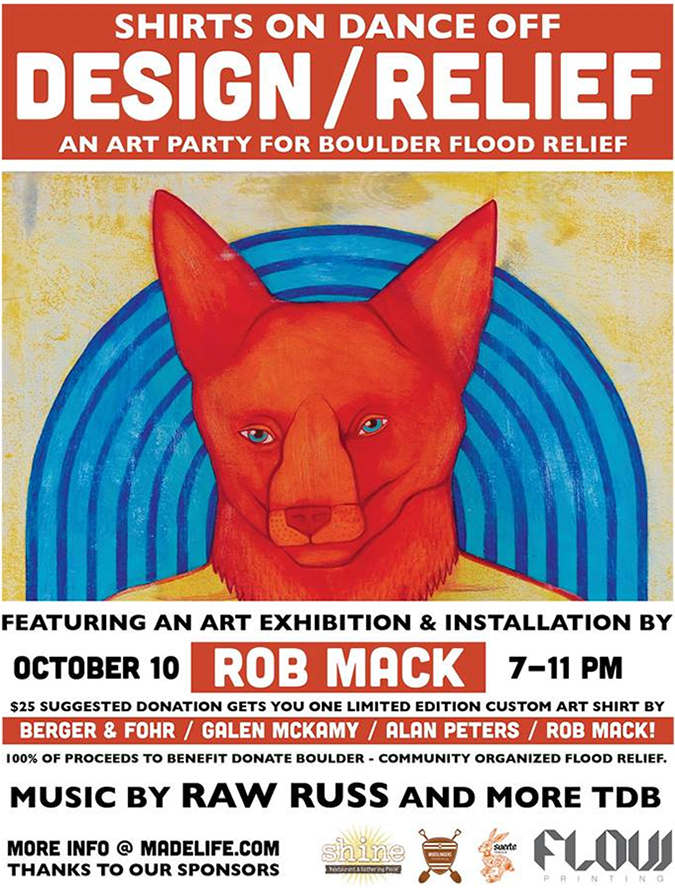 Madelife, an artist-centered store and gallery in Boulder, CO is hosting 'DESIGN RELIEF, A SHIRTS ON/DANCE OFF ART PARTY & FUNDRAISER'. This art party for Flood Relief, features an art exhibition & installation by Rob Mack, tee shirt designs by kidrobot's very own designer Galen McKamy, Berger & Fohr & Alan Peters
Party takes place on Thursday October 10th starting at 7pm at Madelife Gallery on 2000 21st Street
Madelife will be unveiling their October art exhibition, "Unearthed" by Rob Mack that includes 2D & 3D artwork and a special window installation.
Live music all night long by Raw Russ and more TBD!!
Cocktails by Suerte Tequila, mixers/elixers from Shine, Beer by West Flanders and Photobooth by Timmy D'Antonio Photography.
Come out in support of this amazing community and get your shirts ON and your  dance OFF!
***
$25 suggested donation gets you a LIMITED EDITION ART  SHIRT, food, drinks and fun! 100% of proceeds to benefit Boulder Mudslingers.
***
"Unearthed" New work from Rob Mack will be on view October 10th through November 10th.
***
A big thanks to our sponsors:  Flow Printing, Suerte Tequila, Shine, West Flanders Beer, Timmy D'Antonio Photography, Raw Russ!!
The post Madelife in Boulder is Hosting DESIGN RELIEF, A SHIRTS ON/DANCE OFF ART PARTY & FUNDRAISER appeared first on Kidrobot Blog.