April 11, 2011
Live Sketch Sessions At URBAN OUTFITTERS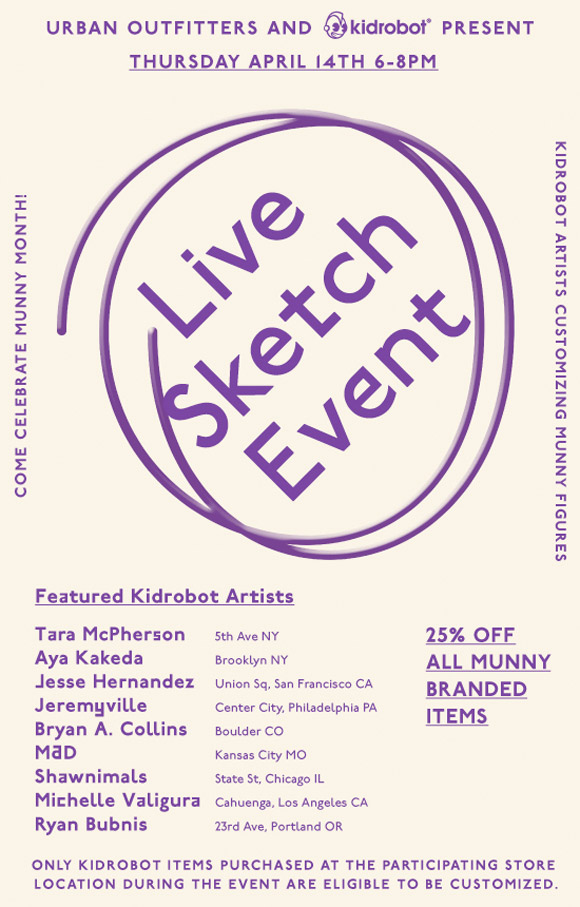 Celebrate MUNNY month with URBAN OUTFITTERS this Thursday, April 14 as they will be hosting live Sketch Sessions all across the US.  There will be 9 select locations featuring a fantastic line up of some of your favorite Kidrobot artists. Come through and scoop up a MUNNYWORLD figure for 25% off (only Kidrobot items purchased at the event will be eligible to be customized).  Each Sketch Session will last from 6-8pm in their respective time zones.
Locations/Artists
521 5th Avenue, New York, NY
Artist: Tara McPherson
166 Atlantic Avenue, Brooklyn, NY
Artist: Aya Kakeda
80 Powell Street, San Francisco, CA
Artist: Jesse Hernandez
1627 Walnut Street, Philadelphia, PA
Artist: Jeremyville
934 Pearl Street, Boulder, CO
Artist: Bryan A. Collins
520 Nichols Road, Kansas City, MO
Artist: MAD
20 S. State Street, Chicago, IL
Artist: Shawnimals
1520 Cahuenga Blvd., Los Angeles, CA
Artist: Michelle Valigura
2320 N.W. Westover Street, Portland, OR
Artist: Ryan Bubnis
The post Live Sketch Sessions At URBAN OUTFITTERS appeared first on Kidrobot Blog.