May 20, 2010
KING OF THE BOARDS – Dril One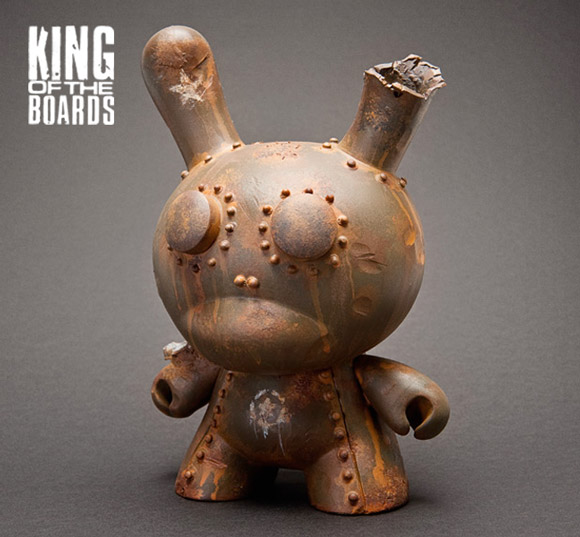 Introducing the Kidrobot Forums artist custom contest, KING OF THE BOARDS. Every month, one of the insanely talented discussion board members will arbitrarily be recognized for the dedication and inspiration to the vinyl art community. Enter to win this month's specially customized 8-inch Dunny by Dril One. Email wheelbarrow@kidrobot.com with the names of your three favorite artists of all time to enter. The drawing will be held next Thursday May 27 at 3pm EST.
This month's KING OF THE BOARDS is Dril One. Based in San Francisco but a New Yorker at heart, Dril One has shown in art galleries around the country. Known for his distressed, war torn textures, Dril credits abandoned amusement parks, insane asylums and military bunkers as sources of inspiration. Besides his work as a toy artist, he is also an accomplished graphic and web designer. I linked up with Drils and got down to the heart of the matter.
KR: How long have you been a board member and why did you join?
DO: I joined in November 2005, and it was because I got into collecting Dunnys.
KR: What inspired you to start customizing toys?
DO: I've always been an artist: painting, silkscreening, print-making, graffiti…the list goes on. When I got into vinyl toy collecting, I saw KR board members customizing toys. Motorbot's year in review in December 2005 blew me away. I immediately thought: "I need to do that". My first successful custom was the R.I.P. skeleton Dunny series. Cutting out 30 details in the heads drove me crazy, and I almost quit. My wife said: "Finish what you started." They sold quickly after I completed them, and it kind of took off from there. I started customizing Munnys, Labbits, and anything I could paint. I was still far from being confident in my customizing ability so I began experimenting with different techniques. In 2010, I finally realized that I'm confident in my skills and style.
KR: Who are you favorite artists and/or biggest influences?
DO:There are many artists who I respect and appreciate, but I'll only name a few who've influenced me in my life. Let me start with my wife who keeps me going and keeps my spirits up. Without her backing, I wouldn't be doing this.  Motorbot is an artist who is always evolving and moving forward. He was really the one who inspired me to customize toys. Leecifer is a customizing machine. He uses everything under the sun to modify toys, and he really takes these toys to another level. I never get bored of talking toy customizing stuff with him either. Jeremy Brautman has to be one of the best people to know if you need an amazing writer or just to chat about toys. He has written amazing pieces about shows I have thrown or been in. My bio rocks, too, thanks to Jeremy. I've known Useless Toys (aka Ed) since 1989, and he is a creative genius. His ideas get me out of ruts when I'm trying to figure out a custom. He is also the bastard that got me hooked on vinyl toys. Spankystokes for all his support. Spankystokes.com is the 1st one to blog my work every time, thanks.  Other people who I look up to include: Brian Flynn, Jesse Hernandez, Mad, Dok A, 64 Colors, Jeremiah Ketner, Taskoner, Dragatomi, and several others who have influenced/inspired me along my path in the art/design world. Oh and all the blogs that have supported me… Thank you!
KR: What was your first Vinyl toy?
DO: It was a Dunny given to me by Useless Toys. I think it might have been the Tristan Eaton weight lifter Dunny in Series 2.
KR: What are your plans for the future?
DO: I'm going to keep doing this as long as I can. Of course, I'll keep pushing further and further. My eventual goal is to own a gallery, make it as a full-time artist and create my own toys. I was recently laid off from my design job, so I'm experimenting with being a full-time artist these days. I definitely know if you don't put 100% into it, it shows. The upshot of being unemployed is that I've now got the opportunity to put everything I've got into my toys.
To keep up with my very latest work, follow me on Twitter here: twitter.com/drilone Also, please check out my site at Drils.com.
And thank you Kidrobot for this interview, and for having the message boards were I made a lot of friends, clients, and just got to show my work.
———————————————————————————————————————————————
UPDATE: Congratulations to Kimberly G. of West Virgina. You are the lucky winner of the first installment of KING OF THE BOARDS!
[nggallery id=149]
The post KING OF THE BOARDS – Dril One appeared first on Kidrobot Blog.