September 22, 2011
KING OF THE BOARDS – Betso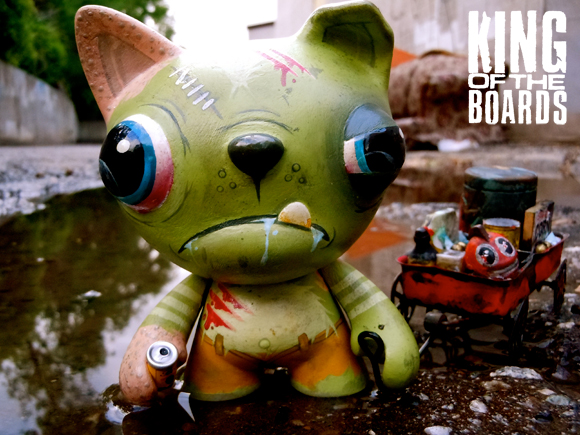 UPDATED: 9/30/11
Welcome to Kidrobot's featured artist custom giveaway, KING OF THE BOARDS. This incredible contest shines a light on one of the many talented customizers and respected members from the vinyl community's stomping grounds known as the Kidrobot Forums. All the while giving you a shot to score an exclusive one-of-a-kind art toy. Now is your chance to win this creative custom 4-inch Mini TRIKKY with wagon by MUNNY MUNTH 2010 champion and Dunny Series 2011 artist, Betso. To enter, email wheelbarrow@kidrobot.com with a pic of your physical desktop's toy collection. You have until 12 noon EST next Thursday, September 29 to enter the random drawing. Please label your email submission ALL HAIL BETSO.
Betso is a self taught artist who is quickly rising to the top of the toy game. You probably already have his Old Snail Dunny from DS2011 in your collection. He has participated in art and custom shows across the country, applying his influence of cartoons, graffiti, and the strange world of animals to any surface that lie in his path. His customs, paintings, street works and original characters continue to progress as he puts the love of all three passions into each one of his works. We recently caught up with the Las Vegas artist to see what's up in the world of Betso.
KR: How long have you been a board member and why did you join?
B: I joined in January 2006 but as many others, I was lurking around the boards for a few months previous. I joined because i really enjoy seeing others customs and it's a really great community. I have met many friends through these boards.
KR: What inspired you to start customizing toys?
B: First custom I ever saw was a bLiNkY custom on ebay, and I just thought it was amazing how you can just paint over a design and have your own toy! Haven't turned back since. :)
KR: Who are you favorite artists and/or biggest influences?
B: I never know how to answer these as there is ALWAYS to many to list.
KR: What was your first vinyl toy and what is your favorite piece in your collection?
B: My first vinyl toy was Sket's Dunny in Series 2. Favorite piece, not sure really, I have a lot of customs from trades that I cherish, my snail Dunny custom is pretty special to me now that it has a 3-inch companion in the 2011 series!
KR: What is the name of your new little character and what's his story?
B: This guys name is Ernie. He is a feral cat that has had a hard life. I tried to adopt him into my house with my 2 cats, but he is not a house cat. :(
KR: What was your initial reaction to winning the MUNNY MUNTH contest and getting a spot in DS2011?
B: I was amazed that my piece had won and very,very, very excited to finally have my own Dunny! I had wanted a Betso Dunny from day one! Glad MUNNY MONTH made that a reality! I was even happier when the snail was chosen, and KR took it one step further when they did an entirely new sculpt with the eyes in the ears and shell on the back. I WAS ECSTATIC!
KR: What are your plans for the future?
B: I plan to just keep painting and hopefully get into more art shows and customs. Basically just keep the ball rolling!
[nggallery id=291]
Betso is a talent in the art toy community and doesn't plan on slowing down. You can stay up on Betso's latest street, canvas and vinyl art works on hisFlickr page or visit his website for more info.
Congrats to Brian Chapman!
You won the custom TRIKKY named Ernie by Betso.
The post KING OF THE BOARDS – Betso appeared first on Kidrobot Blog.