October 19, 2012
Kidrobot X – Closing Party At KRNY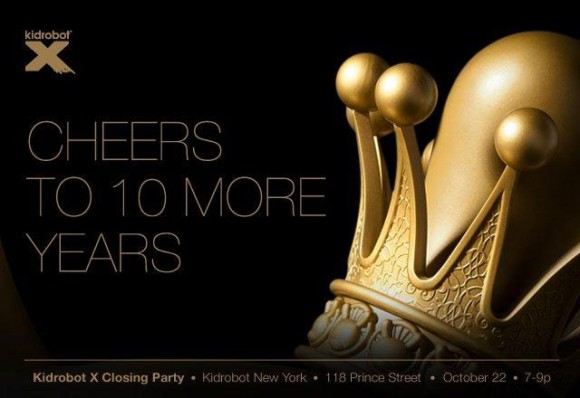 Join us for one last toast to 10 years of art + design at our Kidrobot X Closing Party at Kidrobot New York. This evening will be your last chance to see the our art toy retrospective before they all go back into our vaults FOREVER. Plus we will have videographers on hand to chat with fans about what Kidrobot means to them. You may also be featured in an official Kidrobot video. We want to hear from you so come and tell us your Kidrobot story. Be sure to make your final bids on one of the custom Dunnys being auctioned off for Art Start. These inspiring custom Dunnys were graciously created by MAD, Frank Kozik, Scribe, Chuckboy, kaNO, Mishka, Aya Kakeda, Jeremyville and 64 Colors. The first 50 people to the event will score a Kidrobot gift bag filled with various vinyl tricks and treats. The festivities take place this next Monday, October 22 from 7-9pm.
Cheers to 10 more years!
The post Kidrobot X – Closing Party At KRNY appeared first on Kidrobot Blog.