July 02, 2014
Collection Showcase: Andrew Bell
Are you excited for the release of Andrew Bell's 20 inch Dunny "Orange Drop" tomorrow?
Well, we are stoked, and to fuel our love for Andrew even more, we asked him to show off some of his personal collection. You read correctly, we have our first artist in the Collection Showcase! It is great to see what our beloved artists collect when they aren't making brilliant art and designing amazing toys!
Now to showcase some of Andrew's collection and have him tell you a bit about it.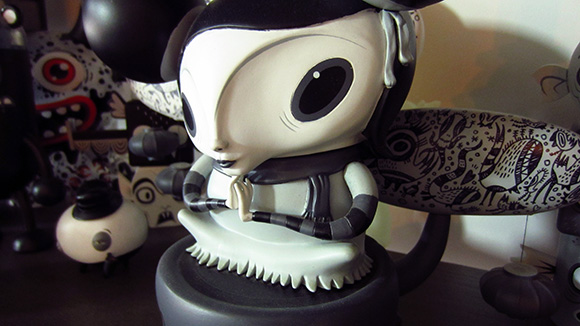 A custom hand drawn Tree Dweller sits front and center on my main shelves.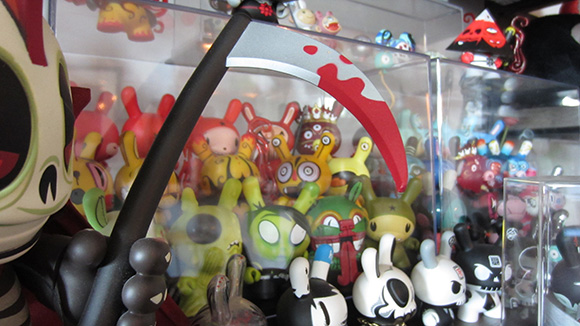 Some of my favorite Dunnys in a rainbow order. This brings a splash of color between a black shelf and a greyscale shelf.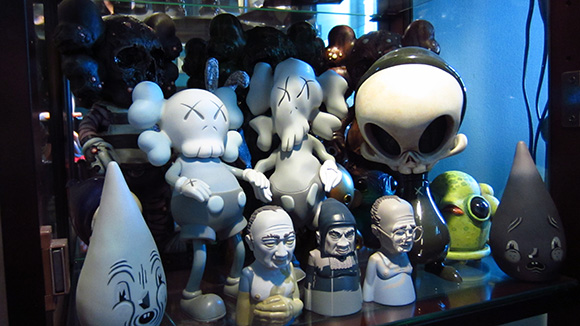 I don't have a lot of room, so toys get swapped out now and then.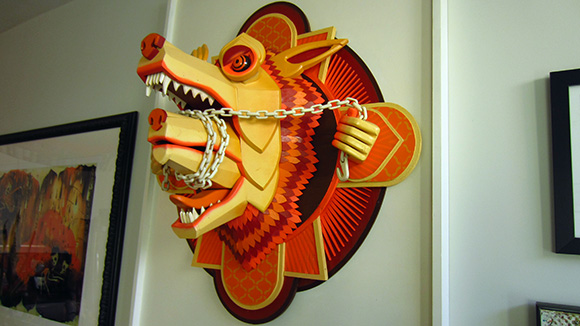 The jewel of my collection, AJ Fosik on the wall.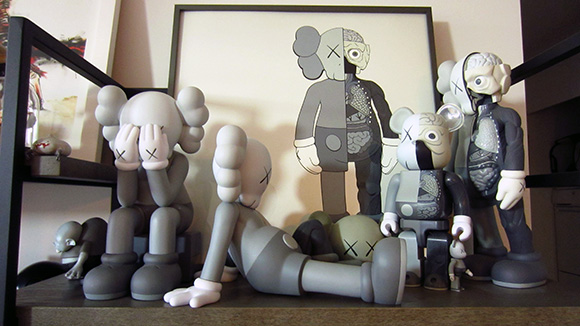 I'm a huge fan of black, white and grey..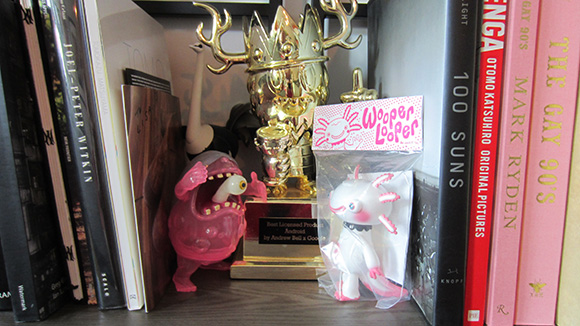 I like to create little areas of matching colors, it can be two or three toys, or toys and books, or a whole shelf devoted to one color.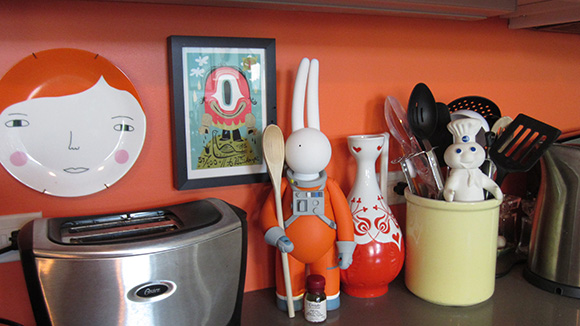 My kitchen is not immune from art and toys…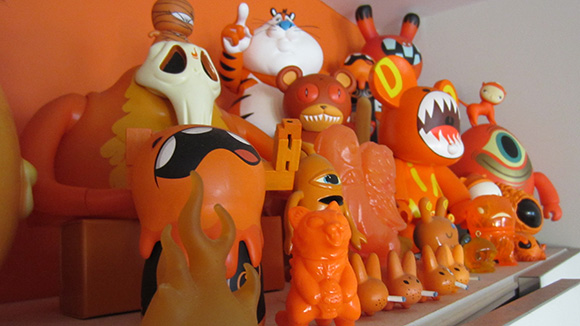 These guys all live above my kitchen cabinet against an orange accent wall, simultaneously featuring in and blending in to the room.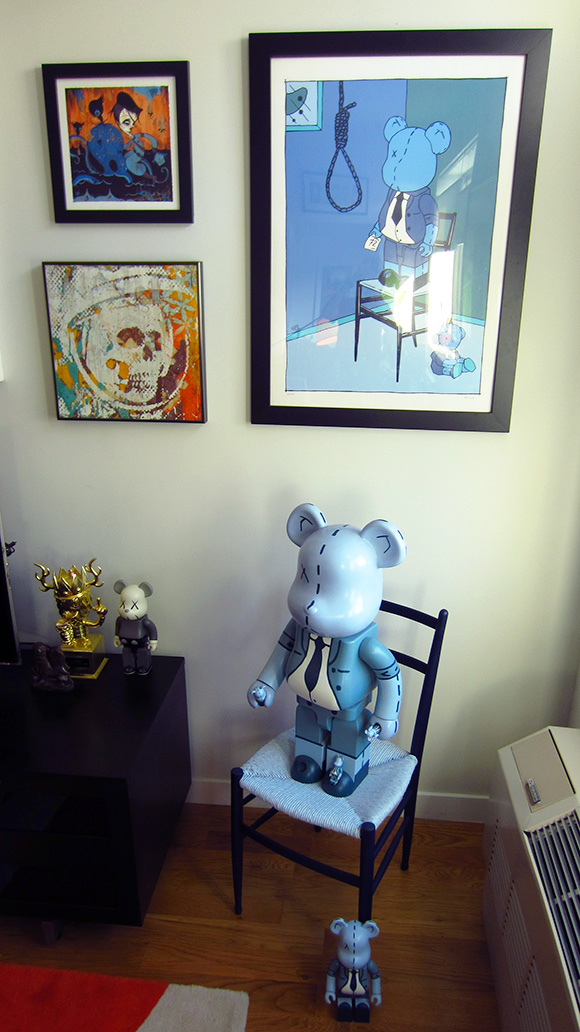 It took me a few years to find the perfect chair, then a few hours of sawing, sanding and painting, but I think it was worth it!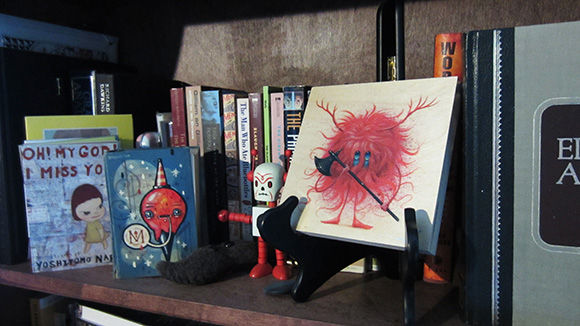 Most of my personal toys are in my studio collection, I prefer to surround myself with other peoples' work when I'm at home.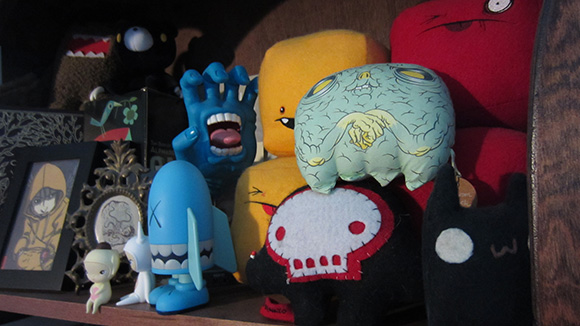 A few plush friends live on my bedroom bookshelf.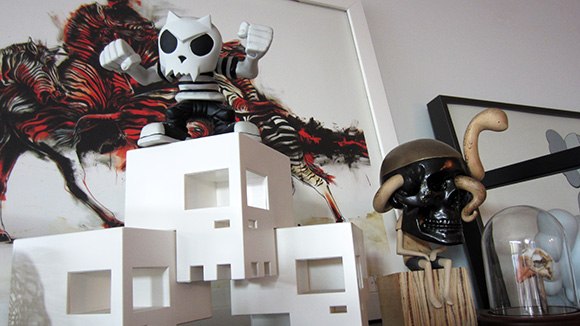 Sometimes it's a theme rather than a color that ties a shelf together, this is part of my skull shelf.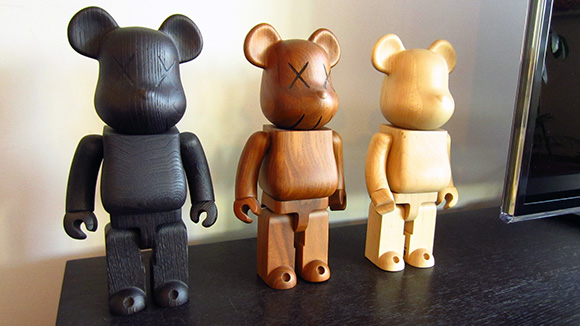 I love natural materials, these get prime real estate and space to breathe.
Such an amazing collection.  Andrew, thank you for taking the time to show us!
Don't forget, Andrew Bell's Orange Drop 20inch Dunny releases on July 3rd!
The post Collection Showcase: Andrew Bell appeared first on Kidrobot Blog.