July 15, 2016
Artist Feature: Jason Freeny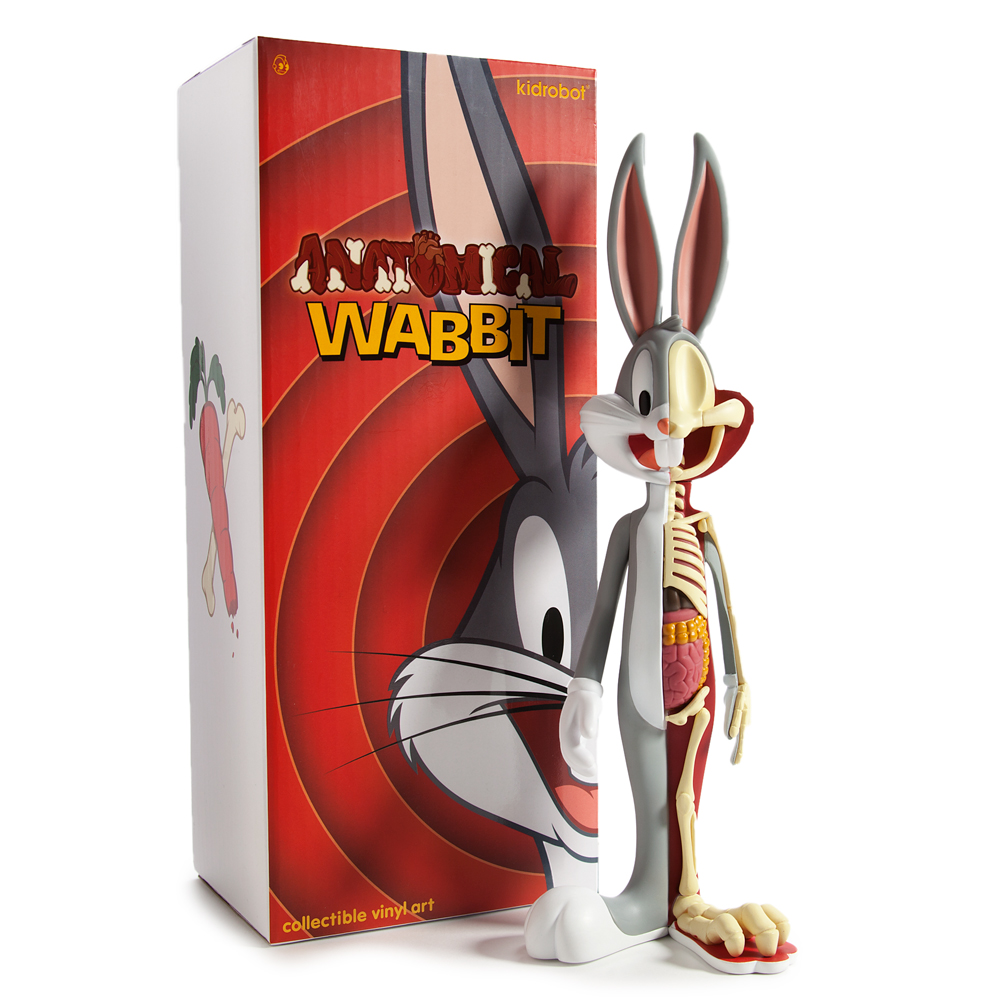 The wonders of Bugs Bunny revealed! Jason Freeny provides a a unique look at your favorite wascally wabbit. From fur to skeleton, take a look at the bones and organs of Bugs Bunny! Anatomical Wabbit stands approximately 12″ tall. Perfect for any Looney Tunes fan!
Anatomical Wabbit is now available in stores and on Kidrobot.com for $65.00!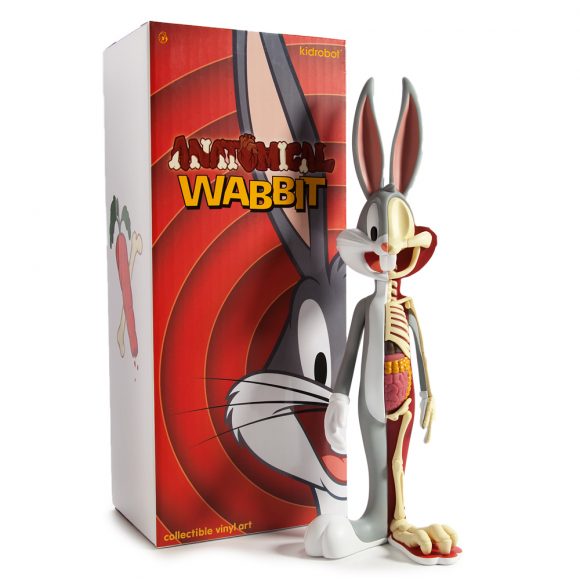 Jason Freeny is an American artist specializing in sculpture, designer toys and computer-generated imagery. He is the owner of the Moist Production studio, which acts as the primary publisher and distributor of his works. We conducted a short Q&A with Jason. Read on to learn about the creation of Anatomical Wabbit!
What made you want to collaborate with Kidrobot?
I've had several  of my pieces turned into production toys but aside from my Micro Anatomic piece and Gingerbread Man, they were all built from concepts and not sculpts, or had to be compromised due to production costs. Kidrobot was willing to create a reproduction of the sculpture I had already created which is ultimately what I wanted to do. So this was an ideal situation. No one had ever given me that opportunity before at a quality level that captured one of my original sculptures.
What's the inspiration behind Anatomical Wabbit?
Well Bugs Bunny was a big part of my childhood growing up in the 70s and 80s. Back in the days when cartoons were only shown from 9am-12noon on Saturday mornings. He also has a skull and upright human posture that would develop a very interesting anatomy.
How did you get the idea to make anatomical pieces?
It was a progression of the work that I was doing at the time about 10 years ago. I had been using balloon dogs in some of my artwork as a pet for a robot character I had developed. I started treating the balloon dog as a actual living creature. Because I have a love for anatomy and I imagined the skull and skeleton of a balloon dog would be quite grotesque I jumped on it to see what it would look like, and that's where it all began in 2007.
What was your artistic process like while working on this piece?
I start all my dissections the same way when working with an existing toy. I start by finding a character toy that would be suited to display anatomy. I carefully cut a quarter of it away, fill the void with epoxy, and then progress into sculpting the innards. I personally am not sure of what the anatomy will look like myself. I work in a reverse forensics process where the shape of the toy dictates the shape of the skeleton, skull and organs.
How does working on a licensed piece, such as Anatomical Wabbit, differ from a non-licensed piece?
The only difference is what I can do with it afterwards. An unlicensed character such as the balloon dog, gummy bear, gingerbread Man and a few others I have done are my own intellectual property. When I dissect a character who is the intellectual property of someone else I can really only just do the sculpture. I can only progress with creating multiples if I have permission and license from the intellectual property owner. It was only after kidRobot and Warner Bros. approved that we were allowed to do this production run.
Who do you consider your creative inspiration?
I find inspiration everywhere. Sleep inspires me, I come up with a lot of ideas at two in the morning when I'm trying to fall asleep.
What is a talent or skill you have the would surprise most people?
I'd like to think I'm a pretty good cook but in reality I'm really just following recipes or trying to recreate a meal I had at a restaurant that was yummy. I was classically trained in ballet for 4 years in my youth. I did a lot of acting as a child including a Chuck E. Cheese TV commercial circa 1982 that I'm still trying to find a copy of.
The post Artist Feature: Jason Freeny appeared first on Kidrobot Blog.