And The MUNNYWORLD MEGACONTEST Winners Are…
Congratulations to the winners and all who entered making this year's MUNNYWORLD MEGACONTEST our largest competition to date with almost 1,100 custom submissions. The polls are closed and the verdicts are in! Kidrobot and our esteemed panel of judges proudly present this year's MUNNYWORLD MEGACONTEST champions.
Best of Show:
Artist: Sergio Mancini
Title: PROJECT: MUNNY
Purchased at kidrobot.com
City: Sao Paolo, Brazil
"There are many aspects to why this piece is so brilliant, both in concept and execution. The clever concept really displays the true form of MUNNY. By taking the idea of "doing it yourself" crossed with a monkey character (inspiration for the platform), the simplicity of the platform is truly respected in this highly controlled custom. The striking execution is spot on and looks like a production piece already. You can tell the artist had his eyes on the prize, and was intent on taking a spot in Dunny Series 2012 when conceiving this design. Who wouldn't want this little guy in their collection. I do!"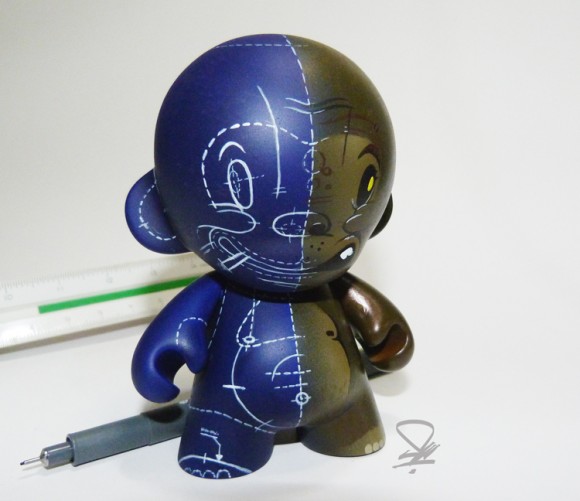 —————————————————————————————————–
Best MUNNY:
Artist: Gary Ham
Title: Drummy
Purchased at Red Hot Robot
City: Phoenix, USA
"Great character; excellent finish great colors simple accessories work very well. Could be a production piece."  – Frank Kozik
—————————————————————————————————–
Best FOOMI:
Artist: Kasey Tararuj
Title: Runts
Purchased at  kidrobot.com
City: Hamilton, USA
"LOVE the use of the hair on this one. Very creative. Plus I like bananas…"  -MAD

—————————————————————————————————–
Best KRACKA:
Artist: JC Rivera
Title: Mr. Joey Krack
Purchased at BLICK
City: Chicago, USA
"Love the tonal quality of this so well realised with a wonderful vintage animation feel, very subtle but really bold and so well painted. A really great unique character with his own character and persona just shines through."   – Dave White

—————————————————————————————————–
Best BUB:
Artist:  Fail2Evolve
Title:  Cottick the Dream Faerie
Purchased at Newbury Comics
City: Boston, USA
"I enjoy the way the piece is carved as much as painted. I especially like the way the eyes were created"   – Ron English
—————————————————————————————————–
Best ROOZ:
Artist: B.A.L.D.
Title: Monster Mutant Motoring Club
Purchased at kidrobot.com
City: Clovis, USA
"This is a great little character. Has a nice set of chompers and lots of other interesting elements to keep the viewer interested. I liked the use typography on the back to give the character context. The typographic style also blends seamlessly with the character's style. The stylization of the jacket, eye patch and bandana are great and easily recognizable. Excellent and flat coloring make the design work well. It's simple and good, clean biker bayou fun."   – Kronk

—————————————————————————————————–
Best RAFFY:
Artist: Kasey Tararuj
Title: Runts
Purchased at  kidrobot.com
City: Hamilton, USA
"Original in every way. Really takes the giraffe inspired platform and runs away with it."  – Erykah Badu
—————————————————————————————————–
Best TRIKKY:
Artist: Grimsheep
Title: Kitsune
Purchased at Bull Moose
City: Waterville, USA
"The craftsmanship on this TRIKKY is remarkable. I love the flatness/depth juxtaposition — most of the body paint and clothing are totally without shadow, but the artist has added both depth and reflection to the eyes, as well as to the folds of the kimono.

On a more thematic level, I have no idea who this character this is — is he a fox, a mouse, or a cat? — but in any case he's obviously a badass. I'd hate to meet him on a bad day, even though he isn't wearing any pants."  – Paul Budnitz

—————————————————————————————————–
Best Use of Sculpting:
Artist: TIBONG
Title: Ram-Man
Purchased at kidrobot.com
City: Homer Glen, USA
"While not a "technical marvel" this just hits right on and has a weird serious vibe I just Love. Has given emotion to a platform all its own"  – Frank Kozik

—————————————————————————————————–
Best Use of Electronics:
Artist: Matt A*
Title: Mad Scientist
Purchased at Tenacious Toys
City: Chester, USA
"This custom stood out straight away, the steampunk vibe, that goggle based glow. Just a gorgeous, really clean piece of work, a deserving winner!"   – Squink!
—————————————————————————————————–
Best Use of Food:
UPDATED: 6/1/11
Artist: Pronto Pixel
Title: Death Berry
Purchased at Plastic Culture
City: Jakarta, Indonesia
—————————————————————————————————–
Best Animal Design:
Artist: Sean Viloria
Title: The Protector
Purchased at Unreal City
City: Vancouver, Canada
"This one had the best execution overall to me, I love the line work through out the whole piece. The bound hands are awesome as well."   – Betso
—————————————————————————————————–
Best Dunny Tribute:
Artist: Mone86
Title: Double Tribute Dunny
Purchased at www.squidink.it
City: Guidonia-roma, Italy
"I really dig that its 2 sided. Nice work on both."  – Betso
—————————————————————————————————–
Best Use of Typography:
Artist: Oscar Escauriza
Title: Calligraphic Monkey
Purchased at FREAKSTORE
City: San Antonio de los Altos, Venezuela
"Great line work and control on this one. It's one thing to do calligraphy on paper well, but it requires a very steady hand to do it well on a 3D object… esp something this small. Great job!"  –  MAD
—————————————————————————————————–
Best Use of Pen:
Artist: Vinylassassin
Title: The Faces Dream Team
Purchased at Kawaii Gifts
City: Weston, USA
"The artist's use of pen is excellent. They use negative and positive space well and generate drawn forms effortlessly. Also variable stroke widths, pattern textures and pointillist shading are exploited to great effect. Apart from great pen technique, the artist also uses each toy's shape very well and there are not too many areas that feel under-utilized."   – Kronk

—————————————————————————————————–
Best Use of Negative Space:
Artist: Jeff Lassiter
Title: BOOM!
Purchased at Kidrobot New York
City: NYC, USA
"Absolute comedy, the punchline and joke is just so instantaneous and perfect, actually made me laugh out loud. I would love this in my collection."   – Dave White
—————————————————————————————————–
Most Innovative:
Artist: John Dela Cruz
Title: ELEVATE
Purchased at kidrobot.com
City: Fremont, USA
"Amazing execution! very clear and out of the box approach. tells a great story."   – Frank Kozik

—————————————————————————————————–
Best Use of Office Supplies:
Artist:  Joshua D.
Title: Roatee the Raffy Pen Holder
Purchased at  Hastings, Greeley CO
City: Brighton, USA
"Puts the fun in FUNctional. My desk needs one or two of these."   – Rotofugi

—————————————————————————————————–
Best Minimalist Design:
Artist: NEVERCREW
Title:  Vampirized
Purchased at  Characterstation, Geneve
City: Lugano Switzerland
"Does so much with so little."   – Rotofugi

—————————————————————————————————–
Best Use of Plush:
Artist: Noon-Yes
Title: Almost There
Purchased at kidrobot.com
City: Dallas, USA
"Love how the toy is creating itself. Very clever!"   – Erykah Badu

—————————————————————————————————–
People's Choice:
Artist: Pirate Sam
Title: Golden Guard
Purchased at Kidrobot San Francisco
City: San Francisco, USA
"Power to the people!"   –

—————————————————————————————————–
Best Use of Video Game/Anime:
Artist: Themongar!
Title: MAD MARIO!
Purchased at Plastic Culture
City: Bandung
"Well, I have to admit that my choice here is a little skewed, because I haven't played a video game with any seriousness since we used to stay up till 3AM eating Top Dogs and playing Q-Bert at Silverball Gardens on Durant in Berkeley. And that was a hell of a long time ago. Tristan tried to get me interested in Grand Theft Auto when it first came out, but I decided that if I want to jack a car, I might as well just steal the real thing.

There were many entries with really remarkable craftsmanship. But (typical me) I chose Mario and the bloody mushrooms. Apparently Mario's had enough of having his ass kicked, falling off platforms, and getting knocked by monkeys. So he's pulled out his trusty DeWalt Stumpbuster (note the artist's accurate choice of yellow and red on the saw), put a napkin around his neck, and decided to take his game to a new level. Mario obviously hasn't slept in a while either, he's eaten a bottle No-Doze, as his bloodshot eyes attest.

Best in catagory for originality, accurate depiction of sublimated anger and the results of growing up in a broken home, and for lots and lots of blood."   – Paul Budnitz

—————————————————————————————————–
The James Brown Award:
Artist: Scott Kinnebrew
Purchased at kidrobot.com
City: Austin, USA
"The "hardest working" category was also one of the hardest to judge. There were a ton of amazing entries by many talented artists. But in the end, Scott Kinnebrew took the prize with over a dozen hand painted and uniquely sculpted designs that utilize all the MUNNYWORLD platforms. Congrats!"

—————————————————————————————————–
—————————————————————————————————–
The post And The MUNNYWORLD MEGACONTEST Winners Are… appeared first on Kidrobot Blog.
Leave a comment
Comments will be approved before showing up.
---
Also in News
Kidrobot is excited to release South Park: The Fractured But Whole Mini Series & The Coon 7″ Medium Figure! The brand new mini series features the superhero group assembled by The Coon. Each mini figure stands 3″ tall and comes packaged in a … Continued The post KIDROBOT & SOUTH PARK RELEASE NEW FIGURES appeared first on Kidrobot Blog.
Chris Holt, aka The Toy Viking, is back for another blog! This time he discusses Frank Kozik's Labbit the Barbarian Screen Print! Kidrobot knows you cant go decorating your mead hall with those inspirational posters with quotes like "Soar to your … Continued The post Frank Kozik's Labbit the Barbarian Screen Print Now Available! appeared first on Kidrobot Blog.
Kidrobot is proud to announce their collaboration with Milwaukee-based artist Scott Wilkowski! Known for his Infected and X-Ray Action versions of popular designer toys, Wilkowski has infected one of the most famous platforms of all time: Kidrobot's Dunny! Standing 3-inches tall, his … Continued The post Now Available from Kidrobot: Cryogenic Blue Infected Dunny by Scott Wilkowski appeared first on Kidrobot Blog.