February 23, 2010
TigerButtah Show at Popup Gallery, New Zealand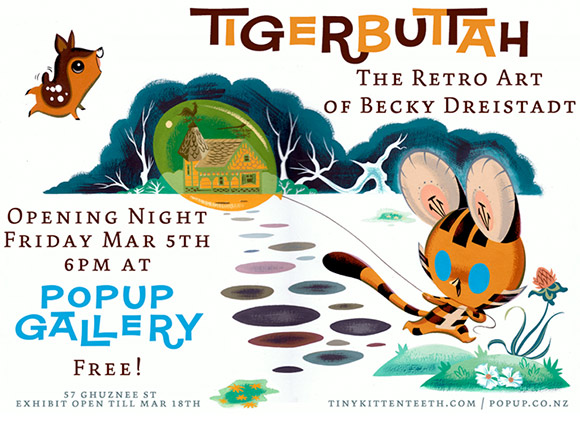 updated 3/1/10
Tigerbuttah is the hand-painted work of Becky Dreistadt, a retro-pop illustrator raised in Colonial Williamsburg, Virginia. Since re-locating to Auckland in 2008, she has worked full-time on the painted online comic Tiny Kitten Teeth and recently completed a pseudo-children's book in the style of 50s and 60s vintage picture-books.
Each page of the book will be exhibited in sequence at Popup, with the opening reception taking place on Friday the 5th of March at 6pm! Becky has also painted three Munnys for the show and will debut her Popup exclusive print!
Following an amazing showing in Auckland, Becky is now touring for her first show in Wellington! This special show features an exclusive new print as well as three hand-painted Munnys! Exhibited in sequence are the hand-painted pages from Becky & Frank's upcoming faux Golden Book tentatively entitled Tigerbuttah's Adventure. Refreshments and good times will be provided gratis! To see some of the awesome art, check out tinykittenteeth.com.
Opening Party at 6pm on Friday the 5th of March @
POPUP Gallery
57 Ghuznee Street
Wellington 6011
New Zealand
p: 04 801 5105
For more information about this event, check out Popup's website.
The post TigerButtah Show at Popup Gallery, New Zealand appeared first on Kidrobot Blog.