July 15, 2013
Threadless X Kidrobot Designs Challenge!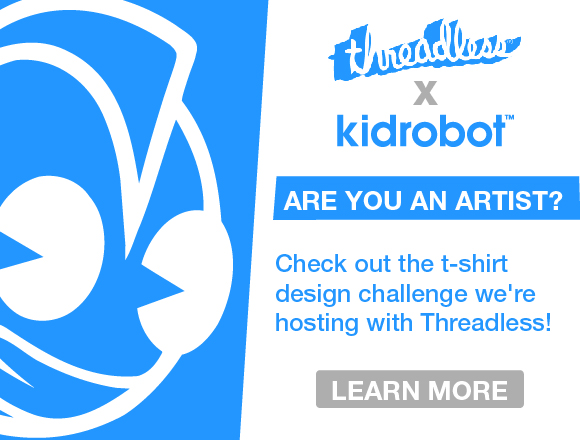 YOUR CHALLENGE
Design a t-shirt inspired by Kidrobot's 'Bot.
Kidrobot turns playing with your toys into an artistic endeavor, cranking out vinyl figurines with cutting-edge flair and undecorated creatures waiting for your unique stamp to make them pop. And overseeing every sinister hop of a Dunny or bare glare of a Munny is their shape-shifting mascot, The 'Bot.
With his bristly Mohawk and defiant sneer, The 'Bot is at home on the fringes of any scene—high fashion, punk, skate, hip-hop, graffiti, you name it. And with your help, he's ready to infiltrate the Threadless community!
Your challenge is to bring Kidrobot's 'Bot to an original t-shirt design. Take cues from the cheeky, fresh, hard-living, and artist-inspired style of The 'Bot to create your own 'Bot infused work of wearable art that will proudly hang in any scene.
Keep in Mind:
You can use The 'Bot head alone or with his body, but the artwork must contain at least The 'Bot head framework.
No outside characters are allowed in your design.
Get creative with your 'Bot design, but remember, the final artwork must still be recognizable as the Kidrobot mascot.
HERE'S HOW IT WORKS
Get your idea ready to submit to Threadless

Read the Threadless submission guidelines to learn about printing techniques, creating high resolution artwork, preparing presentation files, and following the rules! You'll also find color specifications and downloadable assets like templates and blank photos for mockups.

Once you've prepared your design files, it's time to submit it for scoring! Follow the instructions and fill out the form (the whole thing).

The community scores your design
For 7 days, the Threadless community scores your design 1 to 5 and leaves comments. These scores and comments help us pick which designs to print. You're encouraged to promote your design to friends, family, and the rest of the Internet!

If your design wins this challenge, you'll get:

$2500 cash from Threadless
$250 Threadless gift certificate
A Kidrobot Mega Munny
$250 Kidrobot gift certificate
Other designs chosen for print from this challenge will receive compensation based on the product printed on & the quantity printed.
Go to Threadless now for more details! Good Luck!!!
The post Threadless X Kidrobot Designs Challenge! appeared first on Kidrobot Blog.