March 12, 2013
"Spring Forward" Custom MUNNY Show presented by Kidrobot LA & BLU DOT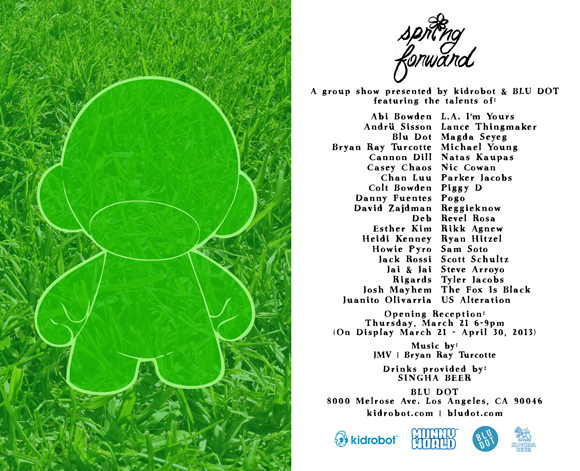 Kidrobot LA & BLU DOT team up for a custom MUNNY show featuring over 30 artists & designers.  Wanting to go beyond the "norm", Kidrobot LA reached out to over 30 individuals ranging from illustrators, fashion designers, musicians, architects, graphic designers, among others; to bring their "Spring Forward" group show to life.  From fully conceptual, to classically illustrated, each MUNNY is a reflection of the artist's own take on the forward thinking ideals of  "Spring".  BLU DOT is a great partner due to their keen eye for design and beautifully crafted furniture; not to mention their awe-inspiring showroom, is the perfect setting for the opening reception and to showcase the diverse stylings of these unique designs.
Opening Reception
Thursday March 21 6-9pm
(On Display March 21 – April 30, 2013)
Music by: JMV  |  Bryan Ray Turcotte
Drinks provided by: SINGHA BEER
BLU DOT /  8000 Melrose Ave. Los Angeles, CA 90046
The post "Spring Forward" Custom MUNNY Show presented by Kidrobot LA & BLU DOT appeared first on Kidrobot Blog.