January 11, 2010
Sport. Scoop. Save.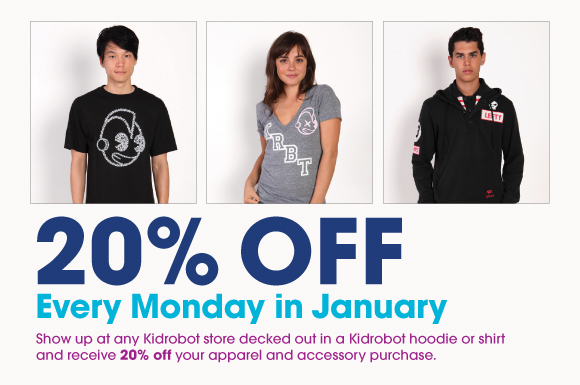 20% OFF
Every Monday in January
Show up at any Kidrobot store decked out in a Kidrobot hoodie or shirt and receive 20% off your apparel purchase.
Sport some gear. Scoop some gear. Save some cash. Who says Mondays have to suck?
Only at Kidrobot store locations.
KIDROBOT NEW YORK
118 Prince Street
New York, NY
KIDROBOT LOS ANGELES
7972 Melrose Avenue
Los Angeles, CA
KIDROBOT SAN FRANCISCO
1412 Haight Street
San Francisco, CA
KIDROBOT MIAMI
638 Collins Avenue
Miami Beach, FL
KIDROBOT DALLAS
5307 E. Mockingbird Lane # 107
Dallas, TX
KIDROBOT LONDON
19 Earlham Street
London, UK
The post Sport. Scoop. Save. appeared first on Kidrobot Blog.