November 20, 2012
Sneaky Snow Ball Custom Toy Show opens Nov 30 at Kidrobot London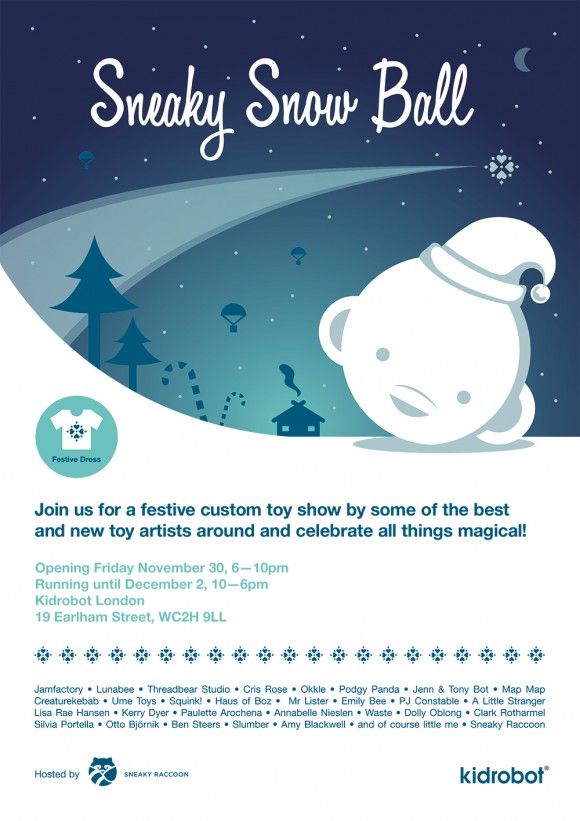 Sneaky Raccoon, aka Anna Mullin, is curating her own custom toy show at Kidrobot London. The show, dubbed Sneaky Snow Ball, is set to open November 30 with a special reception from 6-10pm.  This exhibition of custom toys and prints is centered a theme celebrating all things magical, mystical, festive, and folklore, perfect for the holidays. While most of the toys in the show will be 4-inch Mini MUNNYWORLD characters, Sneaky Raccoon has asked certain artists specifically to create other things like badges and prints. Each artist at the show is hand picked by Sneaky Raccoon herself, so you can guarantee a talented group of creators.
Artists in the show include Jamfactory, Lunabee, Threadbear Studio, Cris Rose, Okkle, Podgy Panda, Jenn and Tony Bot, and more!
Don't miss the chance to come pick up some one of a kind holiday presents while nibbling on some tasty treats. Festive dress encouraged!
The post Sneaky Snow Ball Custom Toy Show opens Nov 30 at Kidrobot London appeared first on Kidrobot Blog.