September 20, 2010
SEEN – Artist Profile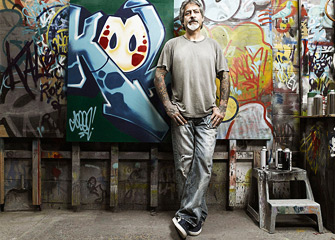 SEEN is one of the most well-known graffiti artists in the world, beginning his artistic career by tagging walls and bombing (painting) subway cars throughout the '70s and '80s. SEEN later turned to tattoo art and opened Tattoo Seen & Body Piercing, which quickly became one of the most successful studios in New York. He currently oversees his toy company PLANET6.
Known to many as the Godfather of Graffiti, SEEN has left an indelible mark on graffiti culture and is revered by those who know what's real.
Web
www.blkmarket.net
www.planet6.com
www.seencity.net
www.galerieseen.com
www.makeyourmark.fr
www.seenstudios.fr
Work
[nggallery id=209]
The post SEEN – Artist Profile appeared first on Kidrobot Blog.