July 09, 2009
SDCC Exclusive #3 – Wood Labbit!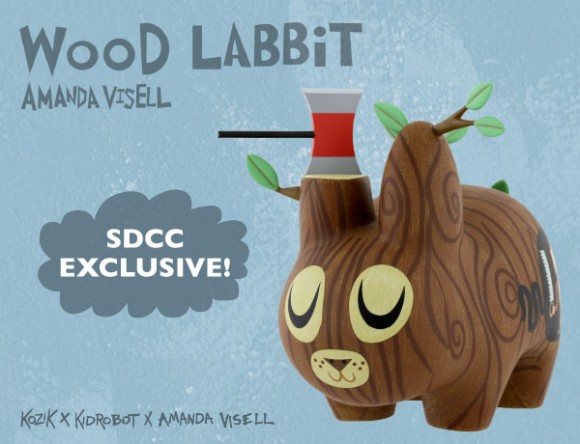 July 25th
Wood Labbit 5-Inch
Signing with Amanda Visell and Frank Kozik
Amanda Visell takes the iconic Labbit into wild territory with this SDCC Exclusive! This 5-inch woodland creature, the first Labbit designed by an artist other than creator Frank Kozik, roams the forest with an axe in place of his missing ear. After losing his ear to Kozeek, a deranged lumberjack, the Wood Labbit devises a quite appetizing plan for revenge. At only 300 made, the Wood Labbit is super rare and retails for $50.
Signings: Amanda Visell and Frank Kozik will be chopping it up at SDCC in Booth # 4529 on Saturday, July 25th from 1pm-3pm. There will be a limited number of Wood Labbits available for signing.
Artists: Amanda Visell lives in the Los Angeles area by choice. Her artwork has been seen in galleries and museums nationwide including an exhibition and exclusive merchandise line at Disneyland USA. Her portfolio includes original artwork along with toys, books, apparel, limited edition prints and sculptures. She is also working on perfecting her design for the ultimate home robot.
Pop art king Frank Kozik has designed concert posters and album covers for musicians including The Sex Pistols and Nirvana and has showcased his work internationally. Since 2000, his main artistic focus has been in the design and production of vinyl art toys like his iconic Labbit and other things that smork.
The post SDCC Exclusive #3 – Wood Labbit! appeared first on Kidrobot Blog.