July 09, 2009
SDCC Exclusive #1 – Fortune Dunny & Luck Dunny!
SDCC Releases Revealed!
For the first time in over 3 years we are finally revealing our San Diego Comic-Con exclusive releases BEFORE the Con! So get your maps ready and make sure you're at the Kidrobot booth early (#4529) as all these figures are sure to sell out, especially with all of the artists on hand to sign them!
Keep your eye on the KRonikle throughout the day today for more SDCC announcements!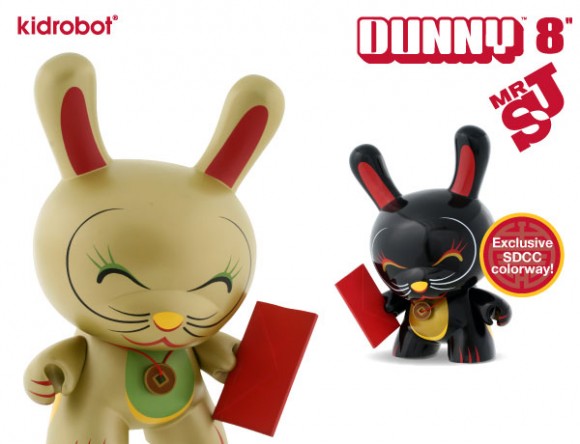 July 23rd
Fortune Dunny & Luck Dunny 8-Inch
Signing with MR. Shane Jessup
MR. Shane Jessup's Dunny from Series 4 blew up to 8-inches, bringing twice the prosperity and happiness in two fortuitous styles! Fortune, in glorious gold, and Luck, in lustrous black, come with a red envelope and gold coin necklace, ensuring the tides of fate sway in your favor. Retailing for $75 each, good Fortune and Luck arrive on July 23.
Signings: Give, share, prosper with MR. Shane Jessup at SDCC in Booth #4529 on Thursday, July 23th from 11am-1pm. There will be a limited number of Fortune and Luck Dunnys available for signing.
Artist: MR. Shane Jessup is an artist/designer working and living in Brooklyn, NY and is the man responsible for Kidrobot's best-selling "Things That Hurt" zipper pull series. MR. Shane Jessup's work has been featured in publications such as Juxtapoz and Time Out New York. His work has been displayed in galleries such as 111 Minna (San Francisco), Merry Karnowsky Gallery (Los Angeles), and White Walls (San Francisco).
Availability & Production Run: The run of 1000 Fortune Edition Dunnys will be available at SDCC, Kidrobot stores, kidrobot.com, and select retailers at 11am local time on July 23, 11am EST online. The run of 200 Luck Edition Dunnys is an SDCC Exclusive, available only at Booth #4529.
The post SDCC Exclusive #1 – Fortune Dunny & Luck Dunny! appeared first on Kidrobot Blog.