October 29, 2010
Saner – Artist Profile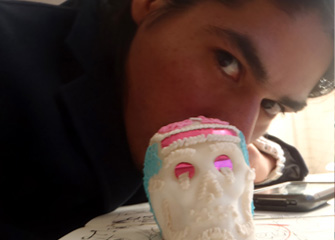 Edgar "Saner" Flores is an urban artist, illustrator and graphic designer. Raised by his parents in Mexico City and surrounded by rich color and tradition, Saner developed an interest in drawing and Mexican muralism early on. He began expressing himself on paper and through graffiti art, later going on to earn a degree in graphic design from the Universidad Autónoma de México. His creations are influenced by Mexican custom and folklore, color, mysticism, masks and skulls. A mix of these lifelong interests and passions has led him to become the artist he is today.
Saner's work has been featured in galleries in Mexico, the United States, London, Berlin and Barcelona. He has collaborated with Kidrobot, Vans, G-Shock, HQTR Canada, Pineda Covalin, Persigna Store, Bacardi, Adidas México, Televisa, and many others.
Web
saner-dsr.blogspot.com
saner.com.mx
Video
Video by General Treegan
Work
[nggallery id=220]
The post Saner – Artist Profile appeared first on Kidrobot Blog.