April 20, 2015
ROA Reveals the Hidden Anatomy of Animals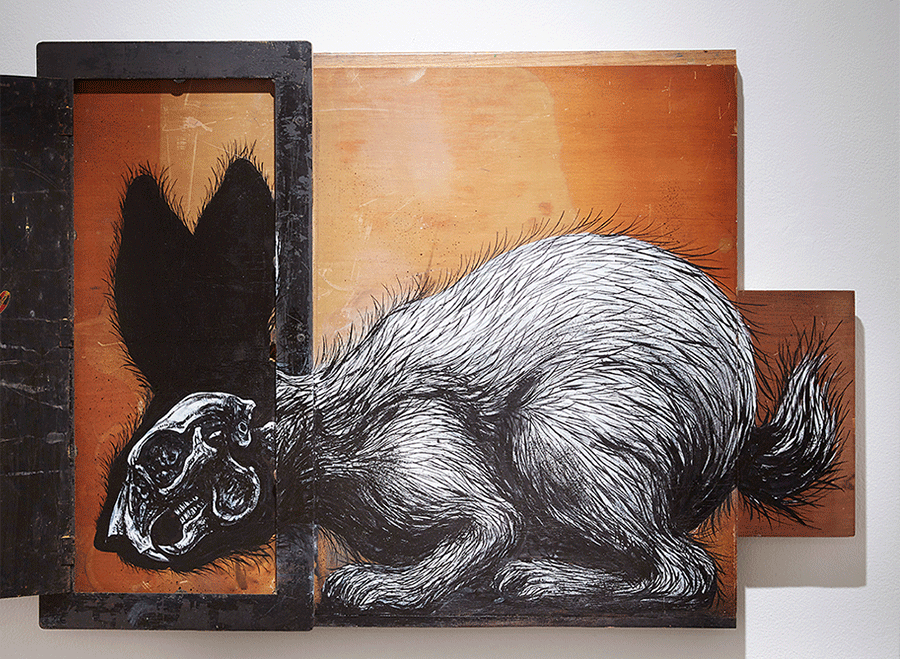 ROA just owned his show at Jonathan LeVine Gallery!
This time, the Belgian artist known as ROA takes the black and white animals we have grown accustomed to from the streets and translates them on to  furniture that can be opened  to reveal the animal's anatomical detail making a creative and interactive art piece. We have to say, he brought his A game for this show.
Metazoa, a series of new works by Belgian artist ROA in what will be his debut solo exhibition at the gallery. Prior to the opening of Metazoa, the artist participated in a residency at Mana Contemporary in Jersey City, during which he created all new works. In conjunction with the exhibition, ROA will paint a public mural at a Mana-owned building located near the approach to the Holland Tunnel (contact the gallery for specific details).
ROA specializes in the portrayal of animals, specifically those that have been forced to dwell in the outskirts of urban society. Concentrating on wildlife that is native to the area where he is painting, this nomadic artist creates location specific work in a restricted time frame and allows the immediate surroundings to inspire him.
Predominately using a limited color palette of black, white and red, ROA paints his creatures with vivid detail, often including anatomical features such as skeletal structures and internal organs and strives to create a powerful sense of intimacy between the viewer and animals represented.
ROA views the beaver, the state animal of New York, as a metaphor for the idea that nature has the ability to reclaim itself. The recovery of the beaver in New York City after it was previously thought extinct is exemplary of how humans and animals affect each other and reflects the artist's interest in how animals evolve within urban landscapes. Wherever man settles, the desire to explore beyond the borders of survival leads to the extinction of species. This extermination due to mankind's impact not only disrupts the natural balance but also leads to drastic cosmic changes, which ROA aims to convey by depicting the life, transience and carrion of animals.
ROA
Metazoa
A Solo Exhibition
529 West 20th Street, Gallery I
April 4, 2015 through May 2, 2015
The post ROA Reveals the Hidden Anatomy of Animals appeared first on Kidrobot Blog.