October 20, 2011
Product Preview – Ninjatown Plush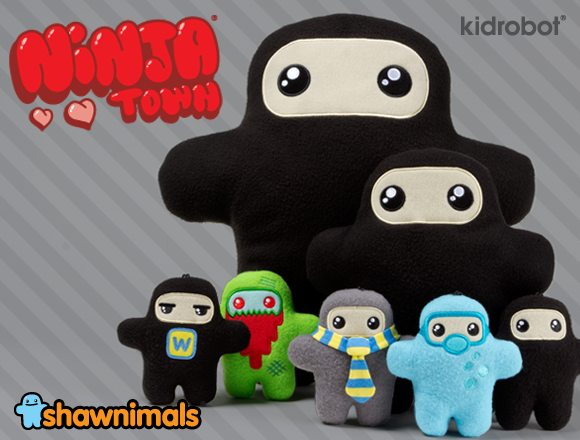 From Kidrobot and phenomenally fun Chicago-based design studio, Shawnimals, comes a new capsule of plush! Ready to train all day and stealth snuggle all night, these nimble ninjas range from 4-inch "pocket" size up to 14-inch "big." Each figure features a super-soft fleece body, tricot face, embroidered eyes, and unique getup to match their character story. Capsule includes Big Wee Ninja (14-inch), Wee Ninja (9-inch), and 4-inch Pocket Wee Ninja, Pocket Zombie Ninja, Pocket Business Ninja, Pocket Aqua Ninja and Pocket Super Ninja. Watch out for their fists of tickle fury beginning November 3 at Kidrobot stores, kidrobot.com and specialty retailers worldwide.

Big Wee Ninja: $29.95 (£24 UK; 27.80€ Europe)
Wee Ninja: $17.95 (£14.40 UK; 16.70€ Europe)
Pocket Ninjas (multiple styles): $9.95 (£7.90 UK; 9.20€ Europe)
Read more of the epic saga at: Ninjatown.com
[nggallery id=309]
The post Product Preview – Ninjatown Plush appeared first on Kidrobot Blog.