October 13, 2012
Product Preview – Micro MUNNYWORLD Multicolor Edition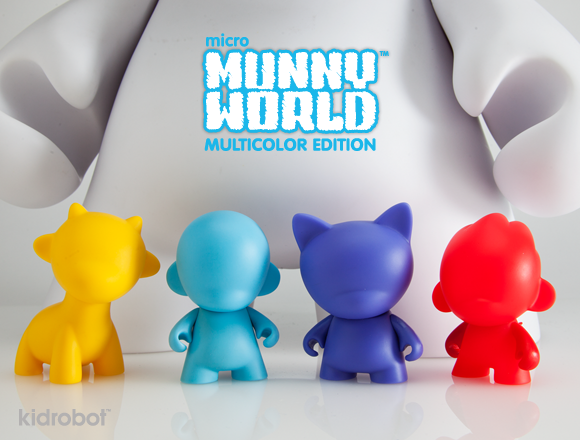 Watch where you step! MUNNY and your favorite MUNNYWORLD characters have shrunk to micro! And though they may only be 2-inches tall, they are better listeners than most giants. You can draw on MUNNY! You can paint on MUNNY! Use pens, pencils, & crayons on FOOMI! Or you can just leave RAFFY alone, and keep TRIKKY next to you for company. These tiny DIY toys are 2-inches tall and come in five fun colors: Red, Yellow, White, Cyan, and Blue! Blind packed, each box shows which character hides inside, though which color you get is a mystery. Each comes with a vinyl micro paint can, a clear sticker sheet of stick-on accessories (like a bow tie, eyes, mom tattoo, zippers, and more), and a clear practice sticker to get the jitters out. Micro MUNNYWORLD gets shrunk October 25 at Kidrobot stores, kidrobot.com, and select retailers. Take a new micro friend home for $6.95 US (£5.50 UK, €6.40 EU).
Instagram Contest:
Even though MUNNY and friends are getting smaller, their world is only getting bigger. Take a picture of your Micro MUNNYWORLD figure and Instagram it with the hashtag #MicroMUNNYMegaWORLD starting Oct 25 to show us how MUNNY accompanies you on your daily journeys. You could even win a prize!
The post Product Preview – Micro MUNNYWORLD Multicolor Edition appeared first on Kidrobot Blog.