November 15, 2011
Product Preview – Kidrobot x Skullcandy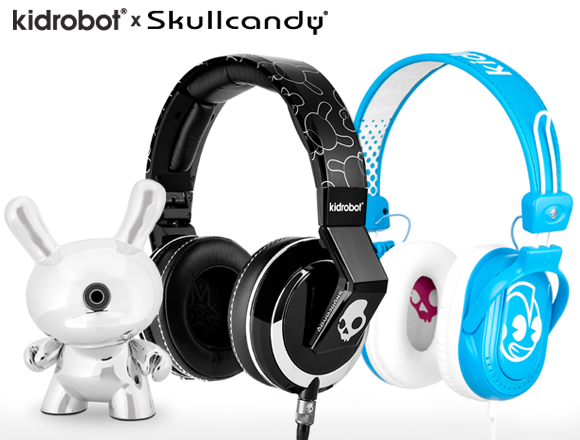 Kidrobot is proud to announce the launch of the new Kidrobot x Skullcandy collaboration – where high fidelity sound meets beautiful design.  Beginning December 2, rock your 'bot with the Kidrobot Agent and Kidrobot Mix Master headphones.  Available for purchase at Kidrobot retail stores, kidrobot.com and specialty Skullcandy locations worldwide.
Kidrobot Mix Master
Sleek in black and chrome, the Kidrobot Mix Master is limited to only 1000 pieces worldwide, and is accompanied by exclusive "chrome" 3-inch "jacked-up" Dunny, with decorative jack in the face.  With plush soft touch ear pillows, shatterproof construction, one-touch mute and duel channel cue control, interchangeable deejay cable and cable inputs, and stashable 3-piece foldable design.  Nests into a protective pressure-formed collapsible road case.  Premium sound meets premium style.  $299.99
[nggallery id=316]
Kidrobot Agent
Pop-art aesthetic, sleek contours and undeniable attitude. Blue and white with a pop of magenta, the Kidrobot Agent boasts a leather and suede headband, brushed aluminum and plastic headphone, and leather cable with gold plated plug.  $59.95
[nggallery id=317]
The post Product Preview – Kidrobot x Skullcandy appeared first on Kidrobot Blog.