August 24, 2012
Product Preview – Ironclad Decimator Dunny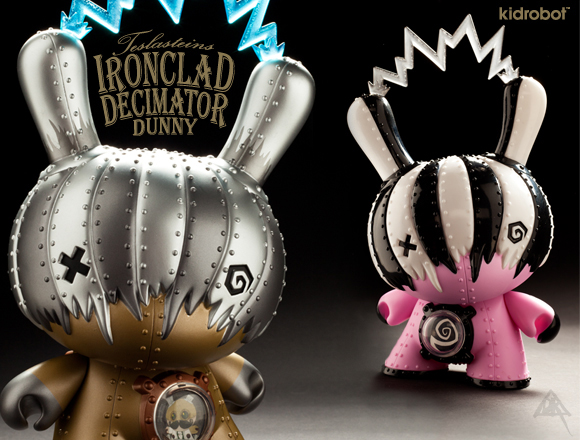 UPDATED: 8/27/12
Professor Teslastein jaggedly cuts, bending back the metal flesh.  Feverishly he works to create new vehicles of destruction for his nefarious exploits. Two models take shape from the scraps: in one he plants a vine to give it strength and in the other he gives a piece of himself. The Frankendunnys come alive. He leaves his laboratory, happy with his success, not noticing a third figure has risen from the decay. Concealed in the shadows, its eyes are glowing, gears are turning, and electric current is pulsing with life.
Doktor A's 8-inch Ironclad Decimator Dunny is available in two editions: the first is shades of metallic silver and gold, with a uniquely sculpted head and body, and transparent blue lightening bolt accessory between the ears. This edition is a KR Exclusive and only available at Kidrobot stores and kidrobot.com. The Mecha Rupture Edition is matte pink with a black and white high gloss head and details, a uniquely sculpted head and body, and a black transparent lightening bolt. The Mecha Rupture edition is a Wholesale Exclusive and only available at select retailers worldwide.
Each produced in a limited edition of 600 with a 1 in 6 chase. These Dunnys rise September 6, retailing for $75 US (£60 UK, €69.60 EU).
Regular Edition – Kidrobot Exclusive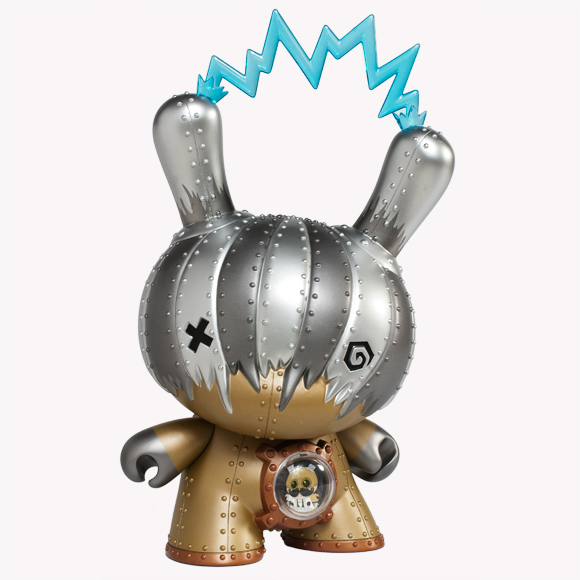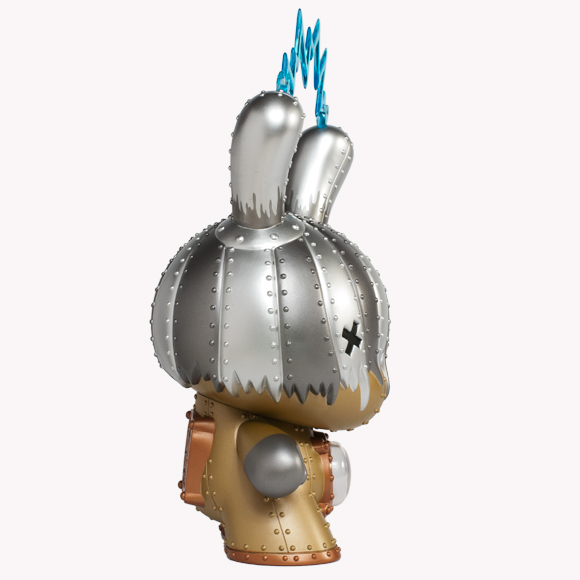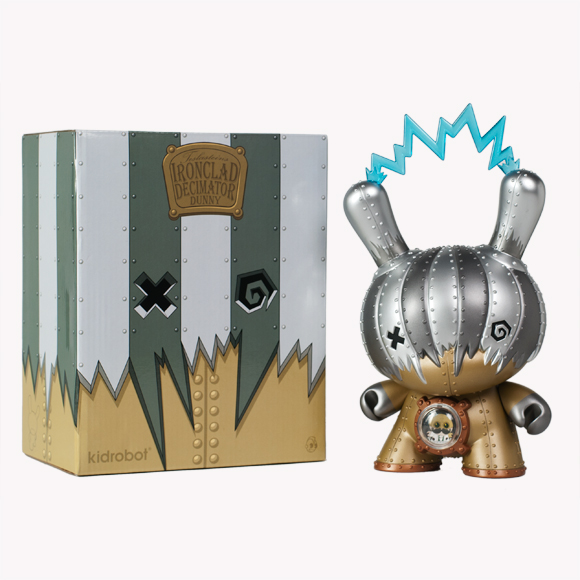 Mecha Rupture Edition – Wholesale Exclusive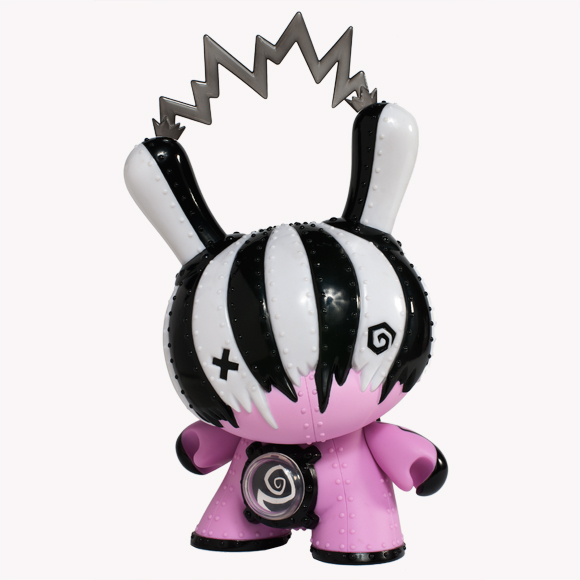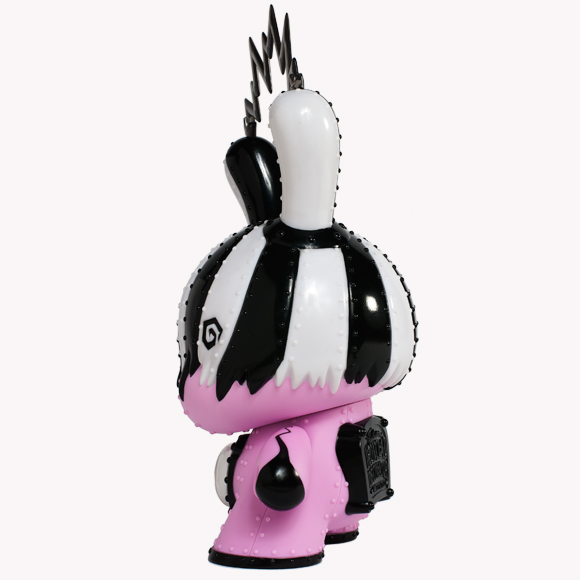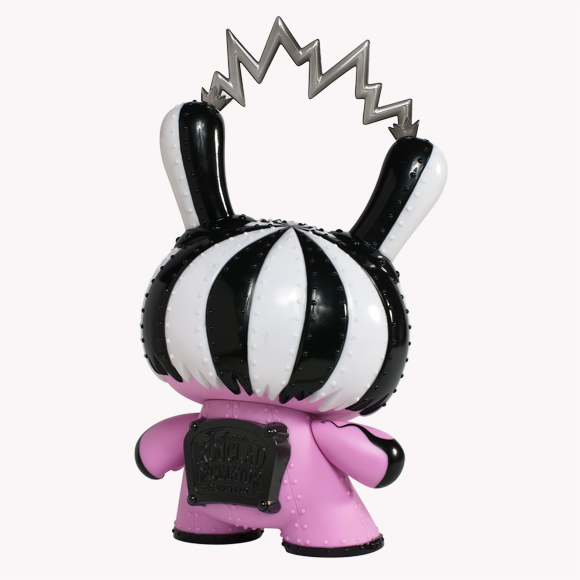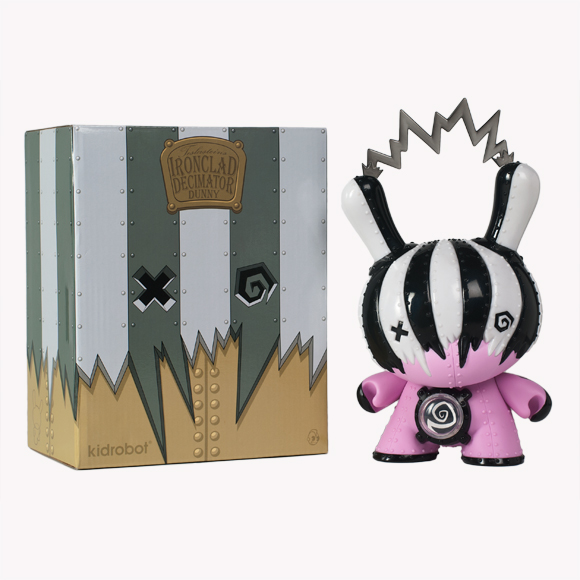 Find Mecha Rupture at one of these exclusive Dunny dealers. Check with your local retailer for more details.
3DRETRO @ Meltdown Comics
Ozzo Collection
Atama
Atomic Books
Camiondepompier
Daddy Kool
Domy Austin
Dragatomi
FOOSH
Freak Store
Graywhale
GUNNZO
Guzu Gallery
Happy Panda Toys
HEADQUARTER MEXICO
HEADQUARTER VANCOUVER
Insomnia Video Game Culture and Vinyl Toys
KAWAII GIFTS
Missing Link Toys
LIFT Detroit
Lulubell Toys
Magic Pony
MCA Chicago
Mixi-Bang!
MODA3
Lost Marbles
Munky King
Myplasticheart
Newbury Comics
Paradise Toy
Park Ave CDs
Plastic Chapel
The Other Culture
Prototype
Rivet Gallery
Rojo Bermelo
Rotofugi
Screaming Sky Gallery
Size Records / Chindogu Gallery
Fresh Manila
Chindogu Gallery
SOMOS
Kinki Robot
Sub-Urban Vinyl
TATE'S COMICS+TOYS+VIDEOS+MORE
The Discovery Hut
ToiToy
Tomodachi
ToyQube
Yuu Toys
The post Product Preview – Ironclad Decimator Dunny appeared first on Kidrobot Blog.