July 30, 2013
Product Preview. ART GIANTS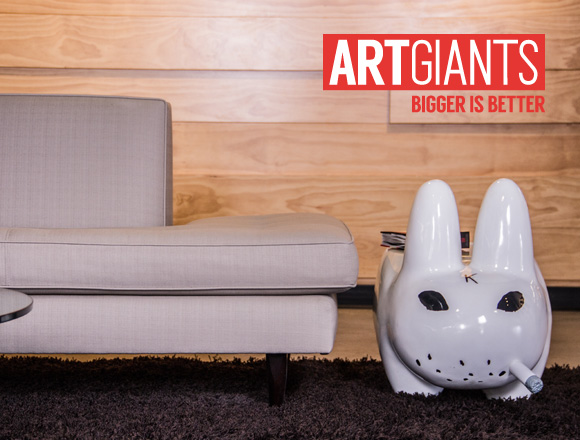 Oh, why good day, chap! Wonderful bit o' weather we're having, right?
Come tarry a spell with this distinguished fiberglass Labbit stool sporting an award-winning* mustache or smorkin' stick. A full 30 inches from manicured paws to the tips of his impeccably glossy ears and available in Lily white, Hyde Park Pink or Canary Yellow, these lordly Labbits are made for stepping out and sitting down.
*Awarded Best in Class: Annual Furniture Mustache Competition 2013.
Because we can and you should.
Ever stare at that big empty spot in the middle of the room and think, "I sure could use a giant fiberglass objet d'art right there." The very largest of Kidrobot's art toy sculptures, Art Giants, are first and foremost – BIG. Crafted to command attention and elicit response, our Art Giants fill the void in your world like nothing ever could or ever will. When you can handle the truth: that Bigger really is Better. When you live life LARGE, and when too much just is not enough – Art Giants.
Please Note: Each ART GIANTS piece is hand made to order and will take approximately 3 months to deliver. Please contact customer care with questions. Fiberglass. Free Shipping on Labbit Stools to the Continental U.S.
The post Product Preview. ART GIANTS appeared first on Kidrobot Blog.