April 18, 2014
Press Release: Entertainment Icon Snoop Dogg Collaborates with Premier Vinyl Toy Creator, Kidrobot
Entertainment Icon Snoop Dogg Collaborates with Premier Vinyl Toy Creator, Kidrobot, to Release Limited Edition Toy To Celebrate 4/20 and the 20th Anniversary of Seminal Album Doggystyle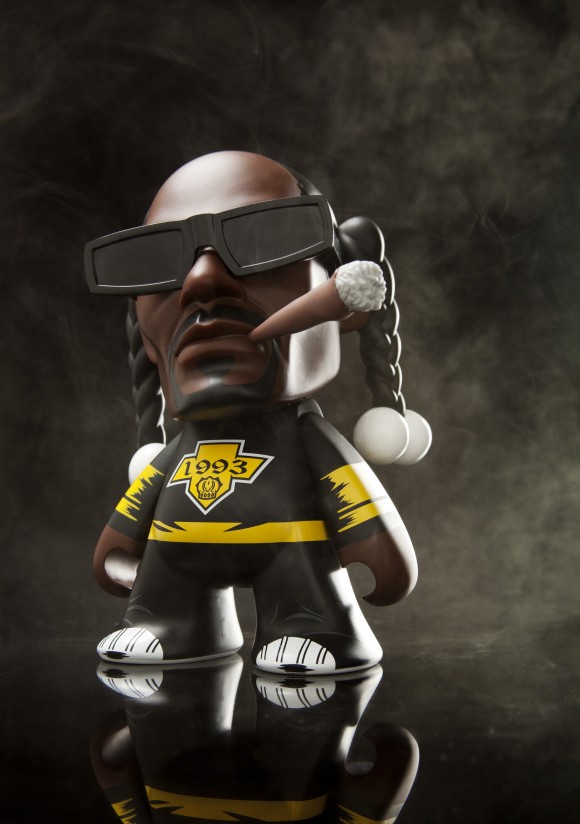 Los Angeles, CA — April 18, 2014 — Entertainment icon SNOOP DOGG and KIDROBOT have fused creative forces for the release of an exclusive, limited edition Snoop Dogg art toy.  Kidrobot has broken out the gin and juice and resurrected Snoop Dogg's classic 1993 look in 7-inch form, laid back with braids, shades and accessory blunt. In celebration of this weekend's counterculture cannabis holiday "4/20," Kidrobot will make the Snoop Dogg figure available today at 11:00 AM EST at Kidrobot retail stores and Kidrobot.com.
The design process of creating this exclusive art toy was through a fluid and close collaborative effort between Snoop and the Kidrobot team. A high focus was placed on the "roots" of Snoop's emergence in the Hip Hop world in the early 90's.  Kidrobot expertly replicated Snoop's singular characteristics that have made him a pop culture phenomenon who is constantly redefining cool. From the braids, to the shell toes, and Locs, the aim was to pay homage to Snoops iconic 1993 look, while incorporating elements of his newer elevated lifestyle as well.
"The collaboration between Snoop and Kidrobot was a very special opportunity to produce a piece that is both progressive and nostalgic at the same time," said Galen McKamy, Creative Director of Kidrobot.  Everyone knows and understands the impact that Snoop has had on Hip Hop and culture. We work best with projects that have a story behind the end result. Creating this figure, which coincides with the 20th Anniversary of Snoop Dogg's debut album Doggystyle gives it that exclusive rareness that Kidrobot is known for. There are numerous details that we worked closely with Snoop and his team on that signify the man through the toy. We are ecstatic about this release and the partnership."
"I love my new Snoop Dogg 4/20 figure I made with my homies at Kidrobot," said Snoop Dogg. "This toy is a throwback to the original days of Snoop for all the fans."
Snoop will also be celebrating 4/20 with his first annual Snoop's Wellness Retreat taking place April 19 in Seattle at WaMu Theater and April 20 at the Red Rocks Amphitheatre in Denver. Snoop's Wellness Retreat, where fans are invited to "Inhale. Exhale. Recharge," was created to celebrate the legalization of the recreational use of cannabis in Washington and Denver. While Snoop's Wellness Retreat will be anchored around a concert series by Snoop Dogg and special guests Wiz Khalifa, YG and more, fans will have the opportunity to experience the full retreat through brand partner integrations on-site as well as leading up to the actual events.
About Kidrobot:
Founded in 2002, Kidrobot is acknowledged worldwide as the premier creator and dealer of limited edition art toys, signature apparel and lifestyle accessories. An innovative cross between sculpture and conceptual art, Kidrobot offers not only a powerful medium for today's international fashion designers, illustrators and graffiti artists, but also the creative canvas for emerging street trends and pop art. Kidrobot toys retail anywhere from $5 to $25,000, and many appreciate in value over time. Kidrobot showcases and sells its unique take on contemporary culture at Kidrobot stores in New York, San Francisco, Los Angeles, Boulder and Las Vegas with temporary pop‐up stores appearing cities worldwide. Our products can be found online at Kidrobot.com and in select retailers worldwide.
About Snoop Dogg:
Snoop Dogg is a multi-platinum artist and entertainment icon. With over 20 years in the industry, Snoop's ability to stay at the forefront of popular culture and new technology through hit records, brand partnerships, innovative digital strategies, philanthropy and more has resulted in unwavering relevance. His reggae album, the Grammy-nominated REINCARNATED, was recorded in Jamaica and documented in the film of the same name. The project chronicles the spiritual awakening he found through the people and culture of Jamaica. His latest album, 7 DAYS OF FUNK, is a much-lauded collaboration between the artist (performing as Snoopzilla) and L.A. funk maestro Dam-Funk that was released in December to rave reviews by Stones Throw Records.
Follow Snoop Dogg on Twitter (@SnoopDogg), Instagram (@SnoopDogg), Facebook.com/SnoopDogg, YouTube.com/WestFestTV and SnoopDogg.com
For Press Inquiries:
Kidrobot:
Chelsea McKamy
CMcKamy@Kidrobot.com
Snoop Dogg:
BeBe Lerner / Allison Elbl
ID
Cashmere Agency:
Brianne Pins
Brianne@Cashmereagency.com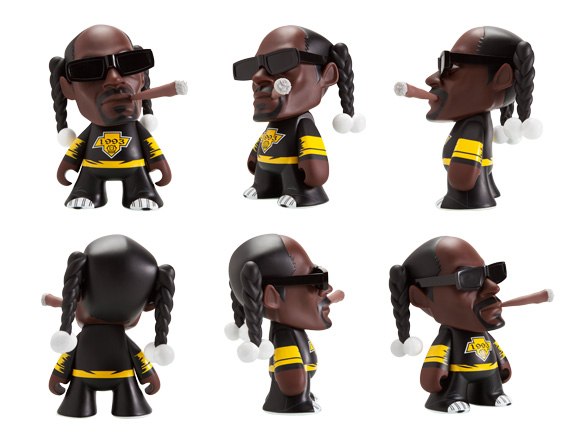 The post Press Release: Entertainment Icon Snoop Dogg Collaborates with Premier Vinyl Toy Creator, Kidrobot appeared first on Kidrobot Blog.