December 15, 2009
Playtime Toy Drive & Custom Show – 12/15/09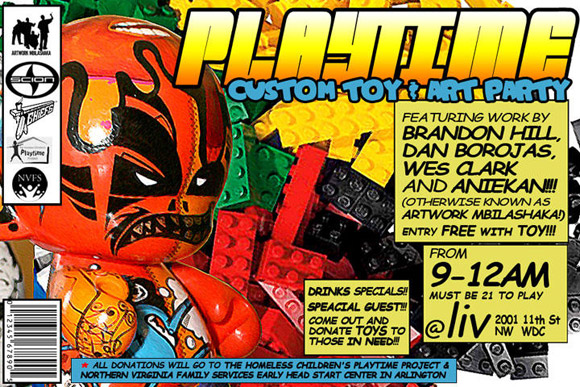 Tomorrow, 12/15, come play with Playtime at LIV,  2001 11th St. NW in Washington, D.C. and benefit The Homeless Children's Playtime Project and Northern VA Family Services Early Head Start Center.
Donate a toy and get in for free! Please bring toys that inspire creativity and learning: building blocks, activity kits (oragami, necklace making), art supplies and children's books that represent African American and Latino children.
Custom Toys and Toy Art provided by AM Radio
9pm – 12am
Drink Specials
DJ 2-Tone Jones – hip hop and rare grooves
The post Playtime Toy Drive & Custom Show – 12/15/09 appeared first on Kidrobot Blog.