October 16, 2011
OPERATION: BLINDBOX – NYCC Daily Scavenger Hunt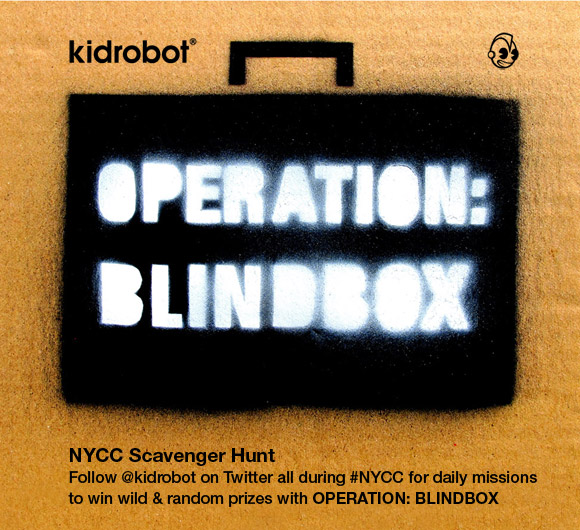 UPDATED: 10/16/11
Alright you New York Comic Con goers, get ready for the scavenger hunt hi-jinx to begin on the East Coast with another round of OPERATION: BLINDBOX. Just like in San Diego, follow us on Twitter @Kidrobot all throughout NYCC for daily adventures of wacky and random tasks to perform in order to win huge mysterious boxes. These amazing blindboxes are jammed packed with unobtainable toys pulled straight out of our production department, such as plastic samples, paint masters, accessories and lots of awesome bits of vinyl. The daily tasks won't be given out until the morning of that day. Taking place on Days 1,2 and 3, the first fanatic to fulfill these daily de-classified missions and bring everything back to Kidrobot Booth 774 will take home one these precious prizes. That is all… for now.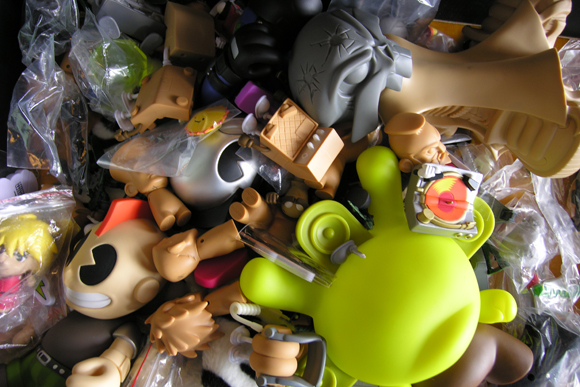 Day 1

–  Dress up as your favorite designer/art toy
– an empty can of spray paint
– a Kidrobot hat
– a product that says, "I <3 New York"
– 3 different colored lanyards
– half eaten pretzel dog
Day 2

–  Snap picture of yourself with the massive blue MUNNY at Kidrobot New York
– Get a 3rd eye drawn on your forehead by Tara McPherson
– an inflatable weapon
– a paper mask
– a Mini MUNNYWORLD figure signed by 5 Kidrobot artists
– a blinking promotional light
Day 3

–  A dozen Dunny shaped cookies
– a pair of plastic fangs
– a Metro card
– 5 different promotional buttons
– a fuzzy hat
– a temporary tattoo applied to your arm
– picture of a LEGO sculpture
The post OPERATION: BLINDBOX – NYCC Daily Scavenger Hunt appeared first on Kidrobot Blog.