MUNNY MUNTH Winners – Best of Show
We here at Kidrobot are amazed and inspired by the awesome participation and talent poured into MUNNY MUNTH. This was by far our biggest and best competition to date! With all the brilliant designs and concepts submitted, the judges had an incredibly difficult time aligning the categories and boiling them down to a top three.
A hearty congratulations to Betso for taking the cake, Hugh Ross for taking our breath away and Igor Ventura for sharing his top-shelf customizing skills. Big ups to Mariana Fuentes for really connecting with the community in the People's Choice Award.
Some artists pushed it to the limits with numerous designs, so we created the James Brown Award. There were a handful of artists in the running for the title, Hardest Working Man (or Woman) in MUNNY MUNTH. Big ups to JohnxSHREDx for his 5 (five!) diverse creations.
Finally, please give a round of applause for our esteemed panel of judges! Just wait until next year…
Grand Prize:
1st Place
Artist: Betso
Title: The Incubator
Purchased at kidrobot.com
Salt Lake City, UT, USA
Creepy Creepy. – Amanda Visell

Athena leaped from Zeus's head, fully grown and armed—with a shout, "and pealed to the broad sky her clarion cry of war. And Ouranos trembled to hear, and Mother Gaia… – Frank Kozik

Top notch idea and execution! Love the lil guy poppin outta his head. Great job! – MAD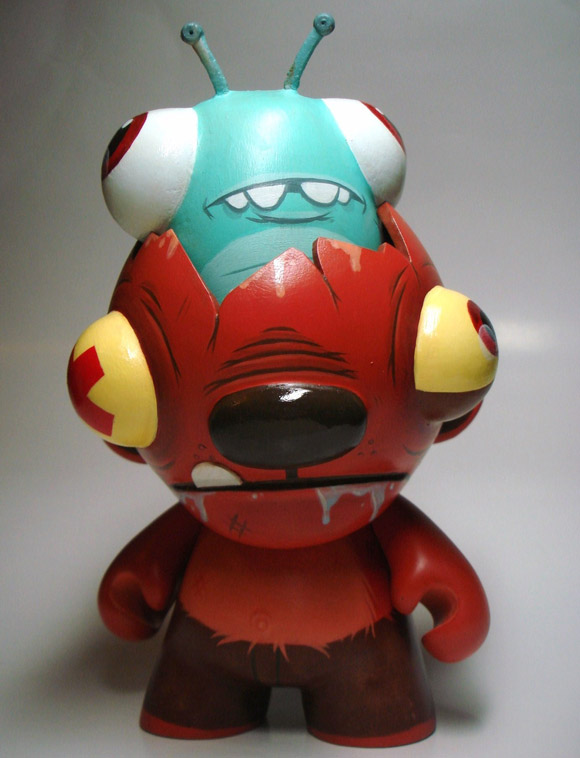 —————————————————————————————————–
2nd Place
Artist: Hugh Rose aka DRED
Title: Wooden Sky Monkey
Purchased at Ik'sentrik
St. Peter Port, Guernsey, Channel Isles
Absolutely gorgeous design. The wood texture, the clouds, the meticulous line work, the organic feel, the overall character design. A beautiful blend of so many elements. Simply beautiful. – Huck Gee

Just wow! LOVE the paint job!! Very clean work, and the overall design flows really well. Awesome work. – MAD

Technically awesome. – Amanda Visell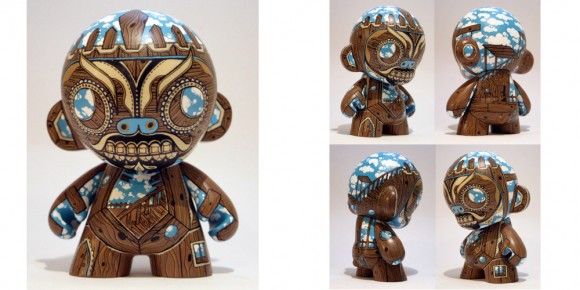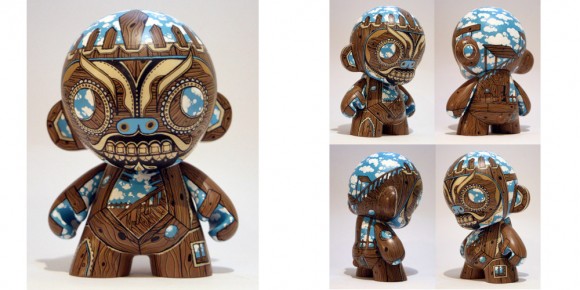 —————————————————————————————————–
3rd Place
Artist: Igor Ventura
Title: Neandertown Executive
Purchased on ebay
Sao Paulo, Brazil
Weird and pimpy. – Amanda Viselll

Forclosures are my Bizness, and Bizness iz good, – Frank Kozik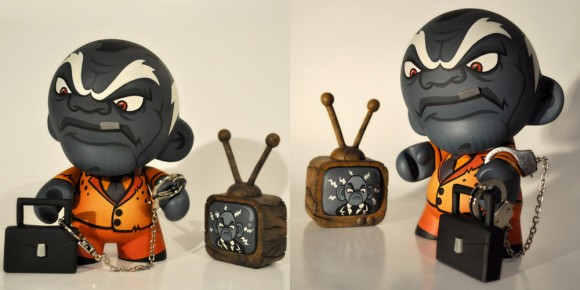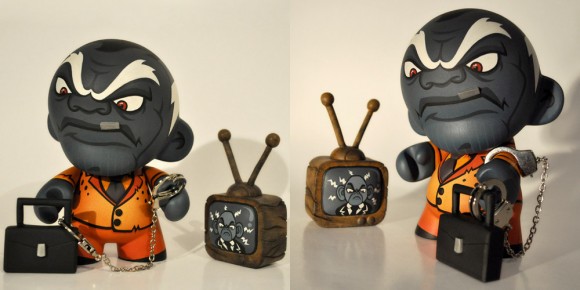 —————————————————————————————————–
People's Choice:
1st Place
Artist: Mariana Fuentes
Title: Indigo and Green
Purchased at Freak Store
Caracas, Venezuela
Likes: 1,639
What can we say, you are most liked by your friends and peers. Congratulations!!!!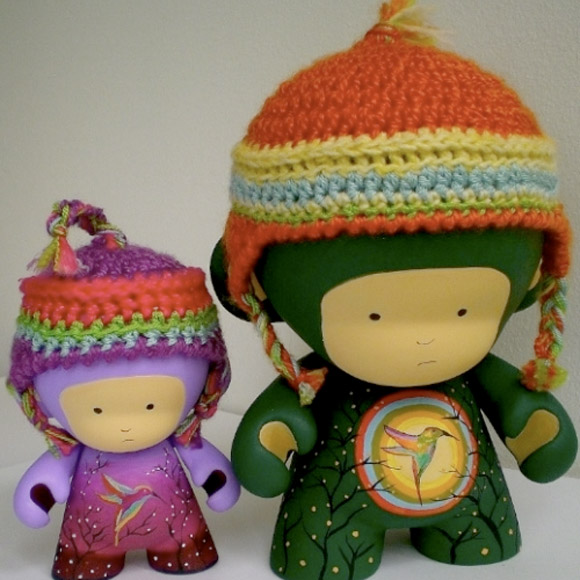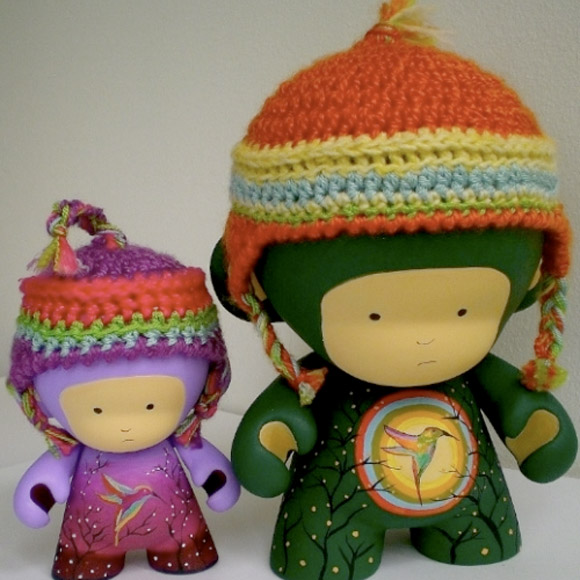 —————————————————————————————————–
James Brown Award:
The Hardest Working Man in MUNNY MUNTH.
Artist: JonxSHREDx
Title: The Sniper
Purchased at kidrobot.com
Rowland Heights, USA
The Sniper takes the post apocalyptic battle-bot concept to a whole new level of awesomeness. This design floored me when I received the submission. -WB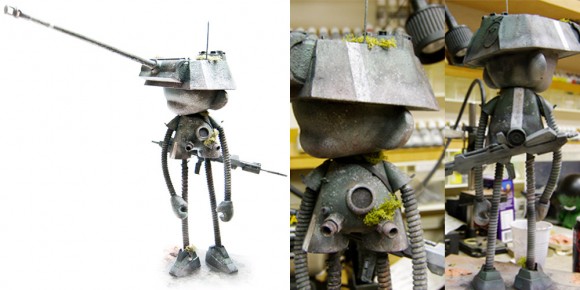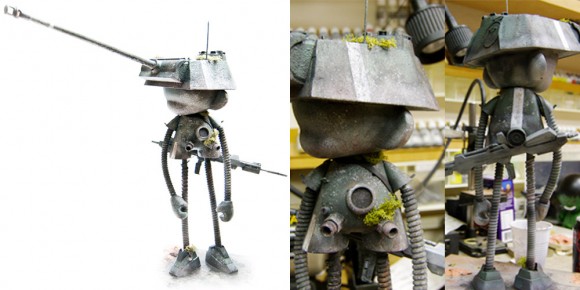 —————————————————————————————————–
Title: The Escape Artist
From concept to execution, The Escape Artist is a detailed and inventive design that uses the Dunny ear accessory like no other. Brilliant! -WB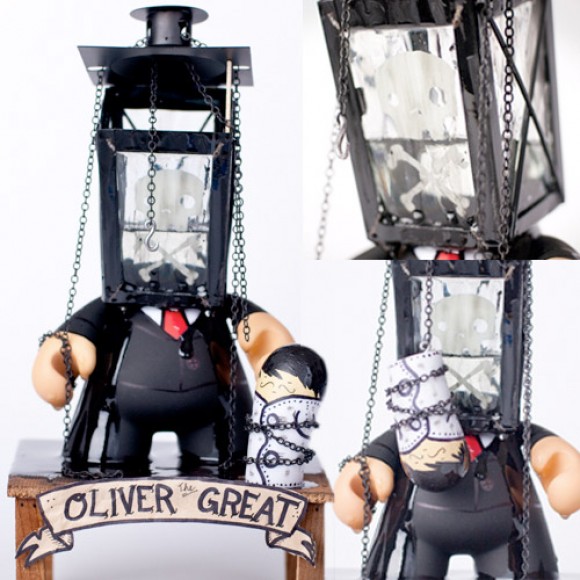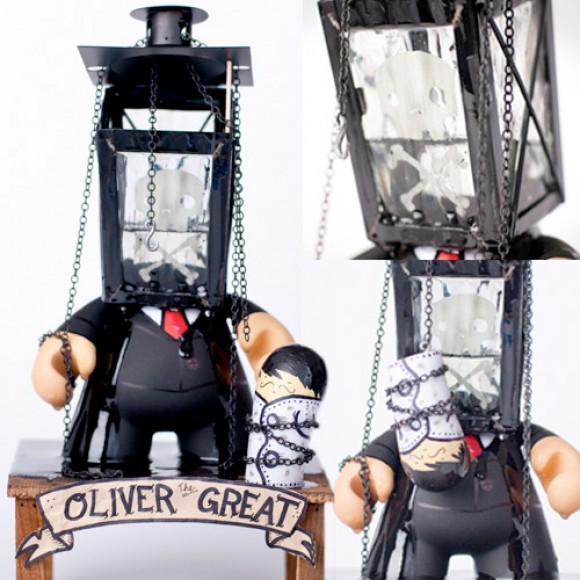 —————————————————————————————————–
Title: Gnome Home
The Gnome Home is a very textured and rustic design with a hint of cuteness. Amazing creation in such a short time span of 2 days. -WB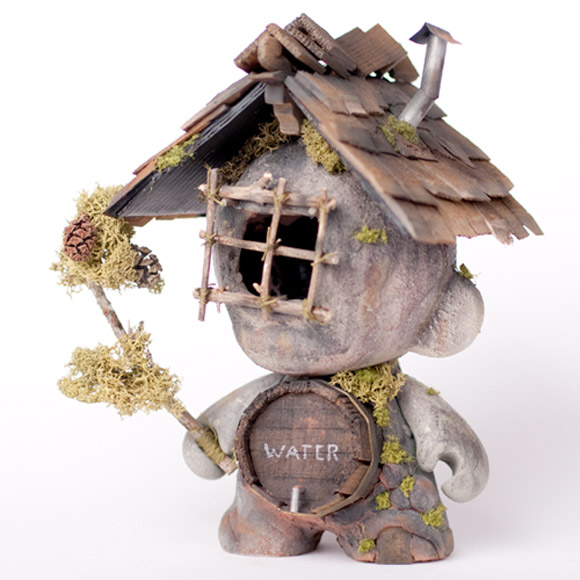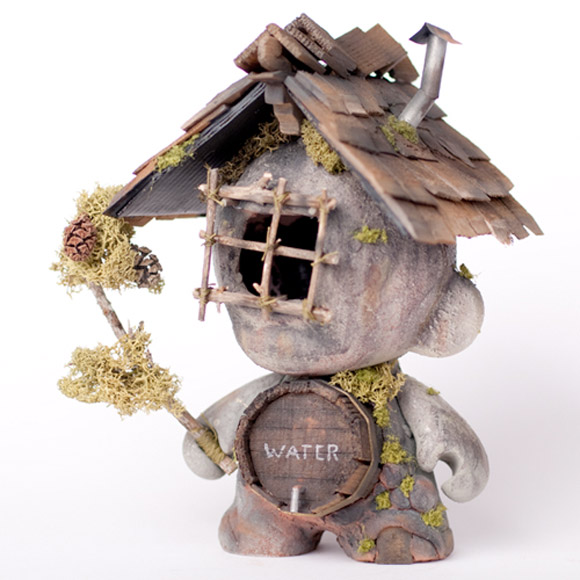 —————————————————————————————————–
Title: The War Bird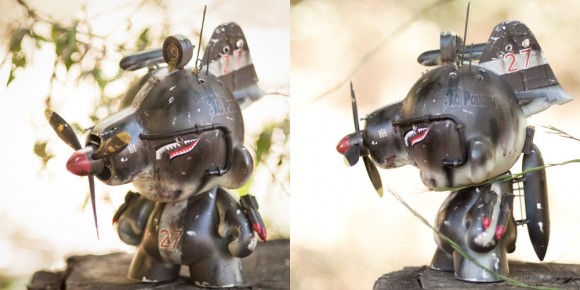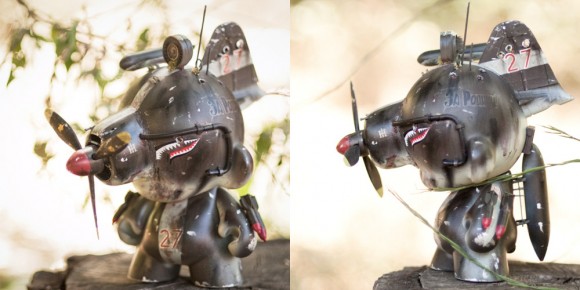 —————————————————————————————————–
Title: Zunny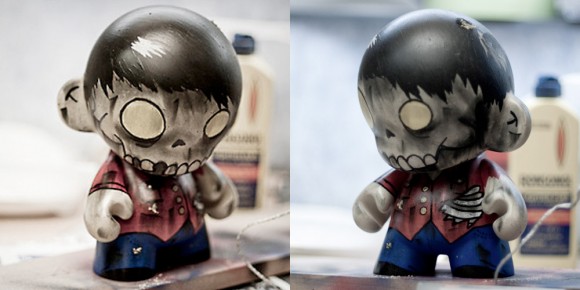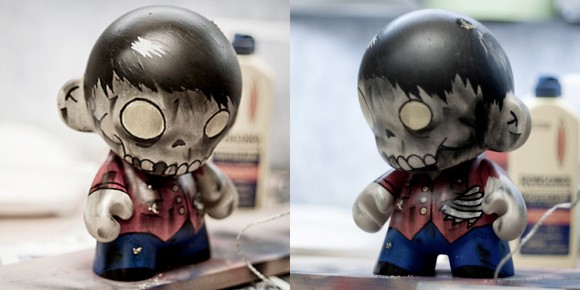 —————————————————————————————————–
The post MUNNY MUNTH Winners – Best of Show appeared first on Kidrobot Blog.
Leave a comment
Comments will be approved before showing up.
---
Also in News
Kidrobot is excited to release South Park: The Fractured But Whole Mini Series & The Coon 7″ Medium Figure! The brand new mini series features the superhero group assembled by The Coon. Each mini figure stands 3″ tall and comes packaged in a … Continued
The post KIDROBOT & SOUTH PARK RELEASE NEW FIGURES appeared first on Kidrobot Blog.