December 19, 2011
Merry Memories With Paul Budnitz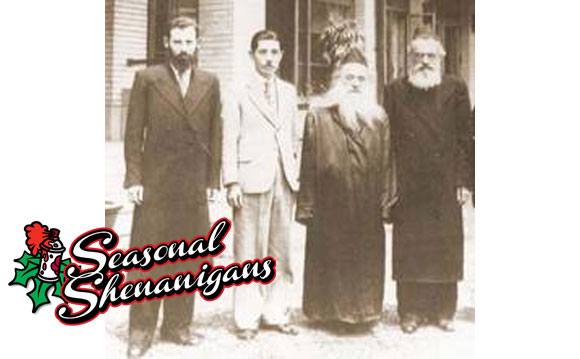 The Seasonal Shenanigans continues as Kidrobot founder Paul Budnitz takes a brief moment from his busy life of creating bicycles to share another intimate Merry Memory.
"My great great uncle Ezra Budnitz was the head designer at the original Budnitz Bicycle Company in Minsk, Belarus at the turn of the century.

In 1912 he had a falling out with his brothers, converted to Catholicism, and moved to Ireland where he married Patricia May, and started a rival bicycle company in Cork, also called Budnitz Bicycles.  So for about 20 years, until Ezra was killed in action on Western Front during World War II, there were two bicycle companies with the same name, one Jewish and one Catholic.

Every year Ezra would send my great great grandfather Isaac a Christmas card, inviting him to convert to Catholicism, and every year Isaac would send a Chanukah card to Ezra, in which he would politely tell him to go to hell.

The one surviving Chanukah card we have in the family archives reads,

"My dear Ezra,
You son of a bitch.  Come back home for the holidays, your mother misses you.  As far as I am concerned you can rot with your Shikse wife, but make your mother happy."

My father's translation from the original Russian is of course rough." – Paul Budnitz
Find out more about Paul's bicycle heritage on his blog and or visit his website to see some of the most beautiful bikes ever made. Happy Stupid Holidays!

The post Merry Memories With Paul Budnitz appeared first on Kidrobot Blog.