February 15, 2013
Major Lazer 'Gets Free' With Kidrobot
In the cavity of Red Rocks Amphitheater the men of Major Lazer took time to jaw with Kidrobot about the latest collaboration, 'Kidrobot x Major Lazer' and we captured it so we could share it with you, our most faithful bots! We took in the genesis and identity of Major Lazer who has come to "Free the Universe" and incarnated him in vinyl flesh. As you can see, they're stoked to share the good news and reveal Major Lazer's first coming in mascot toy form. We tested the elements and braved the lazers from side stage, to the rafters closest to the stars, and against the walls of rock which hold the blasts of rock history now rebounding the Diplo effect – we can tell you that this Major Lazer Bot is ready for any party shot! Kidrobot lazers never die!
Stay tuned for the 'lock, stock and barrel' style b-sides of the interview where we dig deeper into the mortal Major Lazer. From film, to youtube, dinosaurs, anger management and life lessons on teaching and charity work, no red stone was left un-turned.
This Monday night we will again be experiencing the sound of Diplo in Vegas as a fluff for Magic Market week/PROJECT MVMNT. If you are in town for the trade show, 'express yourself' by stopping at booth #10123 on Feb 19 from 2-4 for a 'meet and twerk' with the man, the myth, the kidrobot, Diplo.
Kidrobot x Major Lazer T-shirt retails for $30 and the Tank Top retails for $28. The apparel will be available along with the limited edition collectors toy on Tuesday, February 19, 2013 through kidrobot.com, Kidrobot stores, and select retailers worldwide. Major Lazer's  new album "Free the Universe" drops March 2013.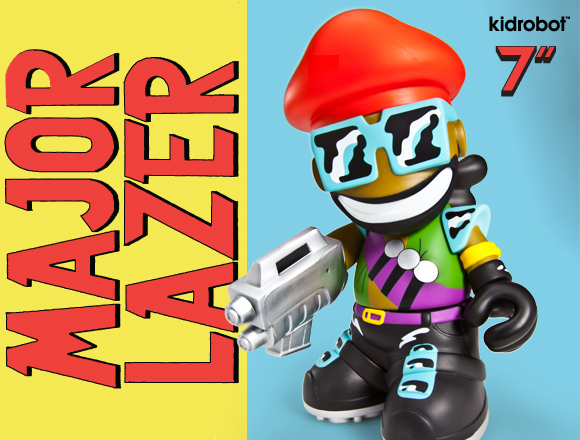 The post Major Lazer 'Gets Free' With Kidrobot appeared first on Kidrobot Blog.