January 26, 2015
Lou Pimentel's When Hell Freezes Over 2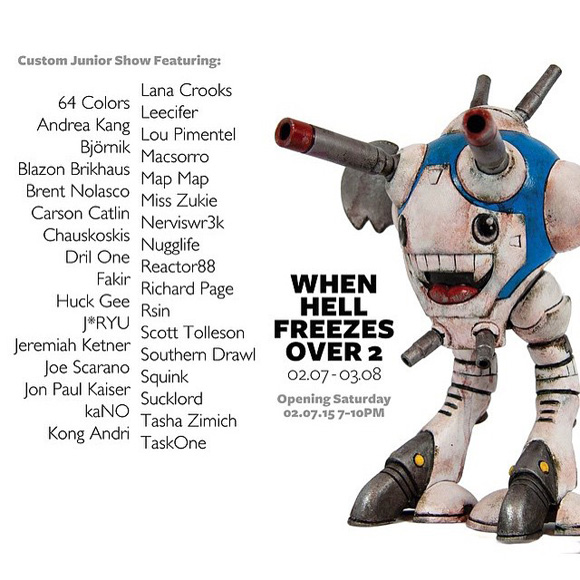 It is obvious that we love our friend Lou Pimentel with our interview last week, and now Lou unleashes hell a second time at myplasticheart with "When Hell Freezes Over 2"!
When Hell Freezes Over 2, presented by myplasticheart, is a group exhibition featuring custom one-of-a-kind pieces based on Lou Pimentel's original character – Junior. A sequel to 2010's first showing of Junior's predecessor, Cranston Fellows Jr., this time around the baby incarnation takes the spotlight as he is transformed and re-imagined by a tremendous lineup of artists, the who's who of today's art toy scene. With over 30 artists on board this show will be a sight to see.
Curated by Lou himself and featuring the talents of:
64 Colors, Andrea Kang, Björnik, Blazon Brikhaus
Brent Nolasco, Carson Catlin, Chauskoskis, Dril One, Fakir, Huck Gee, J*RYU Art, Jeremiah Ketner, Joe Scarano, Jon Paul Kaiser, kaNO, Kong Andri, Lana Crooks, Leecifer, Lou Pimentel, Macsorro, Map Map, Miss Zukie, Nerviswr3k, Nugglife, Reactor88, Richard Page, Rsin, Scott Tolleson, Southern Drawl, Squink, Sucklord, Tasha Zimich, and TaskOne
Opening reception goes down Saturday February 7 2015 7-10pm.
Now some previews!
myplasticheart toy store & gallery
210 Forsyth St.
New York NY 10002
646.290.6866
If you're interested in receiving a preview of the show you can sign up for our Preview List here.
The post Lou Pimentel's When Hell Freezes Over 2 appeared first on Kidrobot Blog.