November 18, 2010
Kidrobot's Black Friday Holiday Hook-Up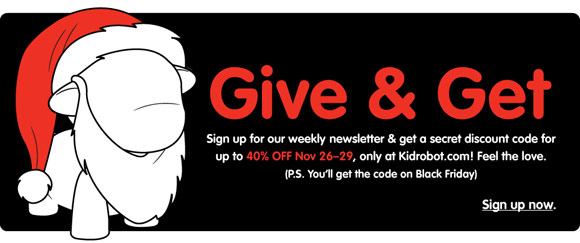 Kidrobot is spreading the holiday cheer this year with some hearty discounts. Everyone that receives our weekly newsletter will get hooked up with a secret discount code that can save you up to 40% off on Kidrobot.com. Your surprise discount will appear once you apply it during check out. This sweet deal will only be valid during Black Friday weekend, November 26-29.
Sign up for Kidrobot's weekly newsletter now and feel the love.
The post Kidrobot's Black Friday Holiday Hook-Up appeared first on Kidrobot Blog.