September 03, 2013
Kidrobot Pop-Up Shop at Black Book Gallery in Denver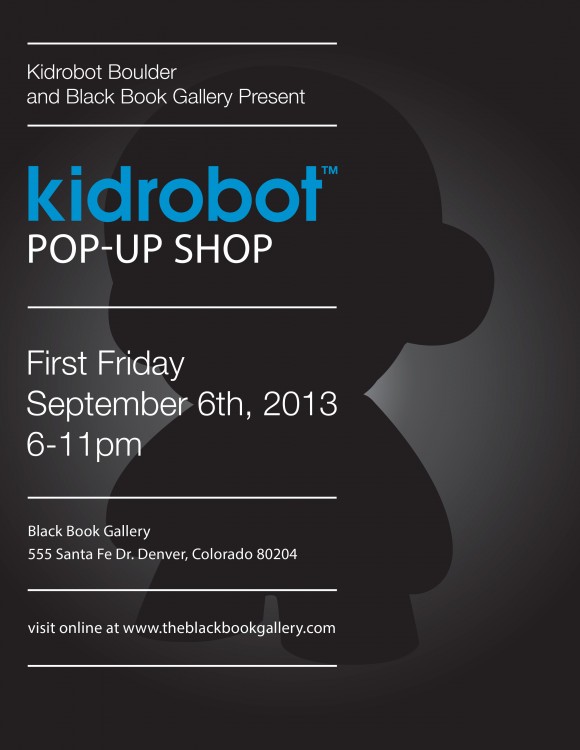 Santa Fe Art District is the one-stop hot spot in the mile high city for experiencing art from international and local artists. Remarkable works can be found on city walls and within galleries alike. As a vinylphile, your thirst for edgy contemporary works will be quenched at the Black Book Gallery. With shows every month, this multi-room gallery space brings in fresh works from heavy hitters from around the globe.  Many of whom have also graced their creative talents on kidrobot vinyl. Such artists include Shepard Fairey, Koralie, Supakitch, Luck Chueh, Doze Green, Ron English, Tristen Eation, Jeremy Fish, Sam Flores, Cycle, Aiko, Gary Baseman, Scribe, Buff Monster, Alex Pardee and Jesse LeDoux to name a few. In this way, Black Book and kidrobot have a unique compatibility. While us toy collectors may already be familiar with the vinyl work of such artists, its important to note, each of them create on their own various art platforms as well. Black Book brings the opportunity for vinyl collectors to have a variety of artwork mediums from their favorite artists!
The latest upcoming overlap between kidrobot and Black Book is happening on Friday 9/6.  Kidrobot boulder will hold a Pop-Up shop in celebration of September's  First Fridays art walk from 6-11. See flyer for details!
The post Kidrobot Pop-Up Shop at Black Book Gallery in Denver appeared first on Kidrobot Blog.