December 17, 2009
Jon Burgerman at KR London December 17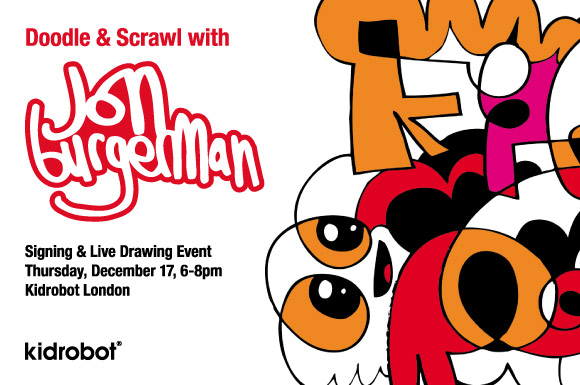 Join UK artist Jon Burgerman at Kidrobot London on Thursday, December 17, when he'll be signing and scribbling with all his fans! Get your hands on your favorite Burgerman toy or pick up a brand-new MUNNYWORLD figure for him to doodle and scrawl on!
Jon Burgerman has built a strong reputation through his unique and colorful swooping, intertwining lines and hyper-emotional characters. From drawings and paintings to animation and toy design, his art retains a hand-drawn quality infused with a sense of self-deprecation and modern-day anxiety. His art has been featured in publications all over the world and is in the permanent collections of The Victoria and Albert Museum and The Science Museum in London, England.
For more info about Jon Burgerman, visit his website at jonburgerman.com.
The post Jon Burgerman at KR London December 17 appeared first on Kidrobot Blog.