May 07, 2010
Joe Capobianco – Artist Profile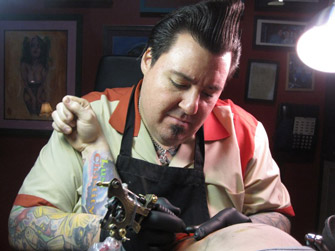 Joe Capobianco is a refined artist in the field of airbrushing and tattooing. For over 15 years Joe has utilized various techniques and mediums in order to create some of the most fascinating pinup style pieces, resembling those of the late 1950s with an added modern flair. Known as the "Capo Girl", this style has directly correlated to his tattoo work, winning him numerous awards throughout prestigious tattooing events time and time again.
Joe opened Hope Gallery in New Haven, CT six years ago and has since released 3 books, 2 full length DVDs, his own custom "Brickhouse" tattoo machine, a series of "Easy Glow" tattoo pigments, and countless prints and original works.
Web
joecapobianco.com
hopegallerytattoo.com
Video
Work
[nggallery id=146]
The post Joe Capobianco – Artist Profile appeared first on Kidrobot Blog.