March 24, 2010
Jessy Nite Opening in Kidrobot Miami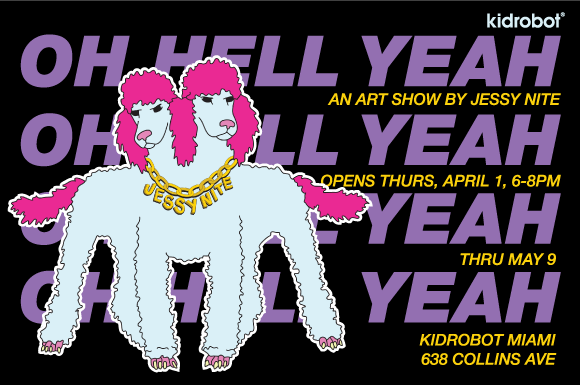 Check out Oh Hell Yeah, the delicious art show featuring the work of artist and illustrator Jessy Nite. Oh Hell Yeah presents the world through rainbow colored sunglasses, which have the power to turn vice, gore, and greed into light and fluffy fun.
Jessy Nite lives in a Benevolent World of champagne fountains, pill topped mountains, and cotton candy poodles. Emphasizing color, line and typography, Ms. Nite brings us to a place where we can idolize all of the naughty with a childlike innocence.
Thursday, April 1, 6-8pm
Kidrobot Miami
638 Collins Ave
Miami Beach, FL 33139
The post Jessy Nite Opening in Kidrobot Miami appeared first on Kidrobot Blog.