November 25, 2013
J★RYU and Vampy Customs for Retail and Web!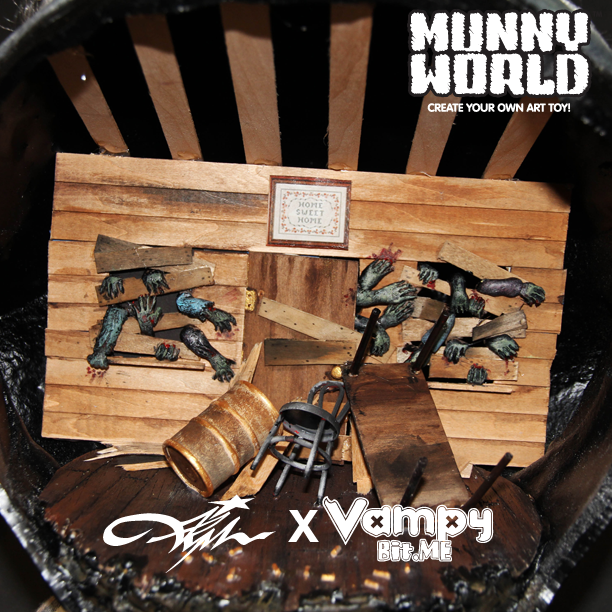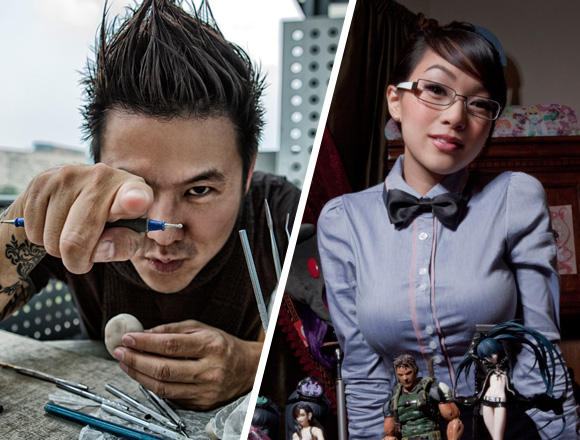 Kidrobot has teamed up with J★RYU and Vampy for  some incredible Kidrobot Store (and web!) customs just for you! After their hard work and efforts, we have to say, these are straight up interactive pieces! So much detail, care and attention to straight up sickness! We love these customs, and here are they ready for your taking…Look closely, there is a story "inside" and out…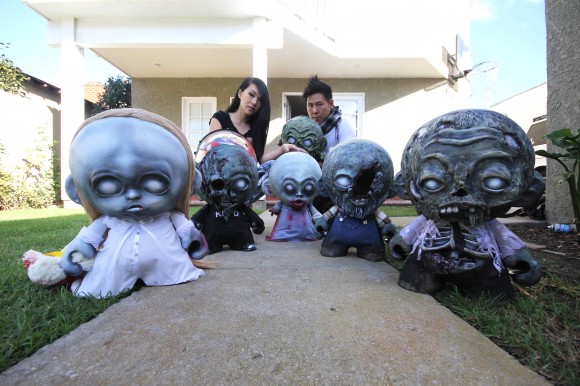 J★RYU
Jesse Yu aka J★RYU, is a west coast-based sculptor/artist focused on exploring the themes of life and death in his signature ghostly and eerie Forest of Sorrows narrative. J★RYU has garnered an avid following of fans who eagerly look forward to seeing how each subsequent new piece adds to the ongoing story of the ghost girl who haunts his works.
After various stints in the corporate world, Jesse needed an outlet for his creative side to help counterbalance the rigors of business. As a toy collector and enthusiast for all of his life, it was a natural step to start creating pieces and collectibles for the designer toy scene. Influenced by inspirations such as Hayao Miyazaki, Tim Burton, Ray Harryhausen, baroque design and architecture, his work was welcomed for its gothic nature and the encapsulated stories he imbued into each piece. After participating in a multitude of shows across the country and world, J★RYU was honored in 2012 as the Toy Customizer of the Year by the Designer Toy Awards.
As a member of the world famous Army of Snipers art collective, J★RYU travels the globe alongside his crewmates to bring their unique visions of art to people of all cultures. In 2011, they raised money and were filmed for a documentary called "Paint Life", where they traveled to the Thai/Burma border to help disadvantaged children, displaced by the political strife in that region, by conducting programs where art was the universal language.
In his career, J★RYU has worked on projects for clients such as TOPPS and Hasbro and has sculpted collectibles for artists Angry Woebots, Dez Einwell, and Jermaine Rogers. His dream would be to have Studio Ghibli animate his Forest of Sorrows story.
Follow him here:
website: www.j-ryu.com
twitter: @jryu
instagram: @sniperjryu
facebook: /IAMJRYU
AOS: www.facebook.com/ArmyOfSnipers
Linda Le aka Vampy
Heavily interested in fashion and the arts, she learned to style in the states and then went abroad to London and Japan to continue her studies. Upon arriving back in the states, she began to teach makeup and dabbled in modeling on the side. Having made a splash onto the cosplay scene with her Bdepictions of classic anime and videogame characters through cosplay, she was discovered by Japanese toy company Kotobukiya and was featured in the cosplay showcase book Otacool 2, which became a worldwide success. Eager for more creative outlets, she then teamed up with Street Fighter HD Remix Artist Long Vo to create images, artwork and a comic for Udon Entertainment's book, VENT. Soon after, her love for toys became her lifestyle which led her to artistic collaborations with KusoVinyl, Sideshow Toy's Tim Miller, Nakanari for Gibson Guitar and many other companies around the world. She recently collaborated with Chris Hardwick of the Nerdist to produce a show about the world of cosplay called "Just Cos," which features cosplayers from all walks of life telling their stories. She is currently part of a costume/prop maker's group named Team Mantium Designs who builds and fabricates highly articulate armor which she makes herself. She continues to keep pushing for creative freedom in all mediums and loves to teach everyone she can about the Otaku lifestyle. You can find her at conventions all year 'round promoting cosplay in a good light to all avenues and genres, as well as working with non-profit organizations to help Japan.
Follow her here:
website: vampybit.me
twitter: @jvampybitme
instagram: @vampybitme
facebook: /vampybitme
The post J★RYU and Vampy Customs for Retail and Web! appeared first on Kidrobot Blog.